10 Reasons We Should All Be Terrified About the People Who Just Took Power in Europe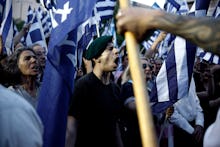 Recently, French far-right politician Marine Le Pen targeted the country's school lunches, claiming that pork-free meals should not be made available to Muslim and Jewish children. 
Le Pen is the head of France's National Front (FN) party, which is notorious for its anti-Muslim and anti-Jewish rhetoric. It is no stranger to using something as benign as a school lunch to make a political statement about preserving "Frenchness." The party, once at the fringes of French politics, is staunchly anti-immigration and anti-European Union. It's also one of multiple European far-right parties that were victorious during this past weekend's parliamentary elections.
Image Credit: Getty
Members of far-right parties won seats in France, Germany, Italy, Greece and Britain, to name a few. The frightening message of their victories is clear: The European Union is bad, and immigrants remain far away from their country's borders.
"Euroskeptics" now hold 20% of the seats in the European parliament. Even though 70% of European parliaments seats are held by members of mainstream parties, the election results cast a grim shadow over Europe's future.
Kait Bolongaro wrote in Al-Jazeera that the results are troublesome for the future of the European Union: "It is yet to be seen what kind of policy will be ushered in under a new era of extreme right politics in the European Union other than an attempt to dismantle a project that took over 70 years to build."
Here is why the following parties that won seats in the elections are terrifying for the future Europe:
1. France: National Front
In a victory dubbed the "earthquake" by Le Figaro, France's right-leaning newspaper, the National Front won 24 seats, placing it ahead of the country's two main parties. 
Both Marine Le Pen and her father, Jean Marie Le Pen, who founded the party in 1972, are no strangers to controversy. Marine has previously compared the sight of Muslims praying outside of a mosque to the Nazi occupation of France during World War II.
Her father, on the other hand, recently suggested an outbreak of ebola as a solution to Europe's "immigration problem."
Marine is already planning to meet with far-right victories from other countries that have similar anti-European Union stances.
2. Greece: Golden Dawn
This party is almost synonymous with the far-right's recent rise in Europe. Members of violent, ultranationalist Golden Dawn have gained a reputation for beating up immigrants including Syrian refugees. One of its members was even linked to the murder of an anti-fascist activist. The group has also pushed for Greek-only blood banks. 
The spokesman of Golden Dawn, Ilias Kasidiaris, has a swastika tattooed on his upper arm.
The party has won three parliamentary seats running on an anti-austerity, anti-immigration and anti-EU platform.
3. Hungary: Jobbik
Hungary's neo-Nazi Jobbik party has a penchant for anti-Semitic and anti-gypsy rhetoric. Skinheads and swastika tattoos are a familiar sight amongst supporters.
Campaigners have warned that the spread of the group's ideology could open the door to a rise in homophobic, racially motivated, or anti-Semitic attacks.  
The party was No. 2 behind the conservative Fidesz party, with 15% of the vote and three parliamentary seats.
4. The Netherlands: Party for Freedom
In the Netherlands, the far-right Party for Freedom actually lost two seats, leaving the group with 12.2% of the votes and three parliamentary seats.
The head of the party, Geert Wilders, is notorious for his anti-Muslim and anti-immigrant rhetoric. He once likened the Qur'an to Adolf Hitler's Mein Kampf. In March, Wilders sparked controversy when he promised his supporters "less Moroccans."
The politician's comments were even condemned by the country's prime minister who said Wilders "went too far." 
5. Austria: Freedom Party
Austria's Freedom Party took 20% of the vote this time around.
Much like their other European counterparts, the Freedom Party has gained support for its anti-EU and anti-immigrant stance. Addressing a crowd of supporters, the party's head, Heinz-Christian Strache, said, "If there are immigrants, from Turkey, who complain there is a cross hanging in the classroom at school, then I say to them: 'go back home.'" 
Strache has also drawn criticism for comparing the European Union to the Third Reich. 
6. Denmark: Danish People's Party
The far-right Danish People's Party won four of the country's seats.
The anti-immigration group drums up fears of an "Islamized" Europe — and back in 2013, the party even attempted to restrict immigration from Muslim-majority countries, a move even fellow right-wing parties condemned.
The party also came under fire for an advertisement including the names of 700 immigrants set to gain citizenship, warning that one of them, a stateless Palestinian, would be a "danger to Denmark's security."  
7. Germany: National Democratic Party
A man who once described Hitler as a "great man" has won a parliamentary seat representing the far-right National Democratic Party. 
Udo Voigt, who also faced charges in 2004 for Nazism, was shown in the party's campaign posters wearing a black leather jacket alongside the slogan "Gas Geben," which literally translates into "give gas." The slogan is considered a reference to the gas chambers used by the Nazis to murder millions of Jews in concentration camps.
Germany's Foreign Minister Frank-Walter Steinmeier said that he was "horrified" by Voigt's victory.
German Chancellor Angela Merkel said that the success of far-right parties in the election is both "remarkable and regrettable."  
8. Finland: Finns Party
The far-right Finns Party won 13% of Finland's vote — compared to 19% of the vote in 2011.
Back in 2012, a member of the party, Jussi Halla-aho, was fined and forced to resign from a parliamentary committee for "stirring ethnic tensions" with racist comments he made about Muslims and Somalians on his blog. 
Earlier this year, a local chapter of the party came under fire for demanding a "clean meeting space" instead of sharing a meeting space with a Somali group.
9. Italy: Lega Nord
Italy's far-right Lega Nord won 6.2% of Italy's votes and five parliamentary seats — compared to nine seats back in 2009.
The anti-immigrant, euroskeptic party has had its fair share of outrageous comments. In response to the appointment of Italy's first black government minister, Cecile Kyenge (who is of Congolese descent), MEP Mario Borghezio said she would be better off as a "housekeeper," and warned that she would impose "tribal traditions" on Italy. 
The comments led to his suspension from the European's parliament's right-wing Europe of Freedom and Democracy group. 
10. Britain: UKIP
The United Kingdom Independence Party (UKIP) came in first, with 27.49% of the vote.
The party, which advocates for the U.K.'s departure from the European Union, now holds 24 seats in the European parliament.
One of the party's members, Gerard Batten, told the Guardian that the country's Muslims should be made to sign a charter "rejecting violence." In 2010 Batten had gone on camera to call for a ban on mosques in Europe. 
The head of UKIP, Nigel Farage, distanced himself from the comments, but the racist rhetoric driving the group's anti-immigrant stance has even led group members to leave the party. 
Sanya-Jeet Thandi, once the party's youth leader, left the party after being one of its public faces, calling it "frightening" and "racist." 
UKIP member Dave Small was just suspended just after being elected for homophobic and racist comments. Small called gay people "perverts," and labeled African immigrants as "scroungers."