One Look at Pornhub Data Reveals What Millions of People Were Really Doing This Past Weekend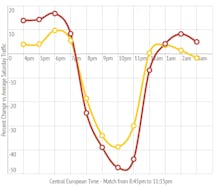 Updated: May 30, 2014, 5:15 p.m.
This year's Champions League final marked the first time that two teams from the same city faced off for the top prize in European soccer. Yet Saturday's thrilling showdown between Real Madrid and Atlético Madrid proved more global an affair than ever.
The match itself, at the Estádio da Luz in Lisbon, exceeded all expectations. Atlético struck first on Diego Godin's 36th-minute header, held the lead through the second half and appeared minutes away from its first European title.
But Sergio Ramos' last-gasp header in the 93rd minute forced extra time — and sparked pandemonium among the more than 80,000 fans who had gathered to watch the match on giant screens at Real Madrid's Santiago Bernabéu Stadium.
From there Real ran Atlético ragged, with goals from Gareth Bale, Marcelo and Cristiano Rolando (with the classically understated celebration) sealing a 4-1 victory and the storied club's record-extending 10th European Cup.
The Champions League final is the most-watched annual sporting event in the world. Last year's final was aired in more than 200 countries to an estimated global average audience of 150 million, and had a global unique reach of over 360 million viewers. Saturday's match is projected to surpass those figures.
The widespread viewership, which was apparent on Twitter, offers a fascinating picture of the event's global appeal. Points of peak activity included the official Real Madrid feed's tweet about Ramos' game-tying goal, which prompted more than 20,000 retweets.
The game generated more than 8.4 million tweets, according to Twitter, peaking at Gareth Bale's go-ahead goal (209,594 tweets per minute), Ramos' equalizer (188,521 tweets per minute) and Ronaldo's match-sealing penalty (183,901 tweets per minute).
A further breakdown can be gleaned from this heat map, which measures geotagged tweets.
Perhaps the most curious of alternative metrics was offered by pornographic video sharing site Pornhub.com, whose ongoing research about trends in site traffic during worldwide events offers fascinating insight to human behavior.
The match kicked off at 8:45 p.m. and ended at 11:15 p.m. Central European Time. Pornhub reported significant drops relative to its average Saturday night traffic across Europe, but nowhere was the difference more pronounced than in Madrid.
Image Credit: Pornhub
While Madrid reflected the trend most dramatically, drops of more than 30% could be seen in Malaga, Barcelona, Seville and Valencia.
Image Credit: Pornhub
Naturally, traffic rates were markedly higher both before and after the match.