9 Powerful Photos That Redefine What It Means To Be Queer And Muslim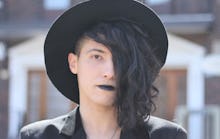 For years, Samra Habib kept relatively quiet when it came to her identity. It can be hard for LGBT Muslims to find acceptance in a community that does not hold consistently tolerant views on same-sex equality.
But Habib will stay say silent no longer. Picking up her camera, the young photographer has begun an "aesthetically engaging" and "culturally demanding" project designed to finally bring needed visibility of the queer Muslim community to the world.
"Just Me and Allah" is a photography project originally created on Tumblr, but which will be in exhibition at a handful of locations in Toronto — the Canadian Lesbian & Gay Archives, Videofag Gallery and Parliament Street Library — in conjunction with WorldPride, beginning June 20.
"I was a bit disillusioned by mainstream Islam and got tired of being told how one should practice it," Habib told PolicyMic. "I was also inspired by a lot of my LGBTQ Jewish friends who celebrated parts of Judaism while being queer. It made me think: Why can't we, as queer Muslims, celebrate Islamic traditions and rituals that have a nostalgic element to them and that bring us joy and comfort while being who we are? Why does it feel like leaving Islam is the only choice available?"
Image Credit: Queer Muslim Tumblr 
Islam traditionally considers homosexuality a sin, although just like anti-gay Christian arguments, only a few passages in the Quran actually reference same-sex acts. But clearly, there are LGBT-identifying Muslims, and it is this community that Habib hoped to tap into with her series.
"I found comfort in learning that it's a conversation that many queer Muslims around the world were having," Habib said. "And thought this project might help mobilize the queer Muslim community through my preferred medium: photography."
Coming from a fashion background and inspired by artists like Bruce Weber, Cass Bird, Steve McCurry, Dorothea Lange and Preston Gannaway, Habib said this project has helped her feel like she doesn't have "to wait to feel accepted by mainstream Islam."
"I can be part of a bigger shift that's happening right now that's spearheaded by a lot of LGBTQ Muslims and women who want to embrace a pluralistic version of Islam," Habib said. "In the words of Maya Angelou, 'If you don't like something, change it. If you can't change it, change your attitude about it.'"
Image Credit: Queer Muslim Tumblr 
One of Habib's subjects, Dali, echoed these sentiments, advocating about the need for visibility, both for each other and for the community.
"We have always been here, it's just that the world wasn't ready for us yet," Dali said in an interview posted by Habib. "Today, with all the political upheavals in the Muslim world, some of us, those who are not daily threatened with death or rejection, have to speak for the others. They have to tell stories of a community that is either denied or scorned. Together, through facing distinct realities, we should be united — united in the desire to be, in the desire to enjoy being free, safe and happy.
"It is not going to be easy, and one may never reach a reconciliation with oneself (or with religion) but, at least, we should care for each other. In face of the challenges, our sense of community and our shared aspirations for a better world should make us stronger."
Image Credit: Queer Muslim Tumblr 
The exhibition will also feature interviews such as this one, with Habib's friend Rahim:
Other subjects from the exhibit have been friends like Rahim, or friends of friends. 
"I experienced a lot of camaraderie because all of my subjects felt that the project was timely and important and reflected conversations they were having with other queer Muslims," Habib said. "Interestingly enough, most of the enthusiasm came from people under 35, which is why all the subjects are younger."
Older queer Muslims expressed gratitude for the project but opted not to be photographed, as Habib explains: "A lot of them were either not sure of how they'd be represented or explained that they had to denounce Islam ages ago because they didn't think they could reconcile their sexuality with Islam. I think that it's so great that young queer Muslims around the world are mobilizing and saying, 'You know what, my relationship with Islam doesn't have to be guilt-ridden, I can take aspects of Islam that resonate with me and celebrate that.'" 
Image Credit: Queer Muslim Tumblr 
From Habib's project, one can see the diversity within the faith of Islam itself as it is expressed variously in different bodies. The Western world has painted a harsh image of the faith, and Habib's message is one that promotes Islam's positive aspects that have been overshadowed by the focus on extremists.
"I'm inspired by the roots of Islam that are often ignored with all the coverage of religious extremists who are using Islam to justify non-Islamic actions," Habib said. "There's a lot of evidence that supports the fact that Prophet Mohammad advocated for pluralism and racial equality. Islamic civilization was responsible for theological discourse, ground breaking architecture, literature and science. That's the part of Islam I choose to celebrate."
After Toronto, Habib said she hopes to take the exhibit around the world. 
Image Credit: Queer Muslim Tumblr 
Photo Credit: Queer Muslim Tumblr 
Photo Credit: Queer Muslim Tumblr 
Photo Credit: Queer Muslim Tumblr