Something Happened in Baseball Last Night That Never, Ever Happens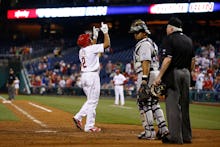 There are light-hitting outfielders and there's Ben Revere.
Entering Tuesday night's meeting with the Colorado Rockies at Citizens Bank Park, the diminutive Phillies center fielder had not hit a home run in a five-year major league career spanning 384 games. Revere's 1,565 plate appearances without a round-tripper were the most of any active major-leaguer, and it wasn't even close. The next 25 guys on the list were pitchers, for whom hitting is, by job description, an afterthought.
But with one out in the seventh inning of Tuesday's game, Revere pulled a 1-1 fastball from Colorado's Boone Logan over the right-field fence.
Image Credit: FanGraphs
"When I got to second base, I didn't know what to do, especially when I got to third," said Revere, whose homer traveled a mere 357 feet and would have left just six of the 30 ballparks in the majors, per HitTracker. "It's past me. I'll try and get 400 more."
It goes without saying that Revere, at 5 feet 9 inches and 165 pounds, is not in the majors for his power. He'd never even homered in spring training and left the yard just five times in 1,755 minor league plate appearances, most recently as a member of Triple-A Rochester against the Toledo Mud Hens on May 30, 2011.
Even so, Revere's streak had grown conspicuous. It was the longest stretch without a homer of any player in 67 years and the longest to start a career since Frank Tavares of the Pittsburgh Pirates went 1,594 at-bats from 1972 to 1977.
Revere, for those keeping score at home, is now tied for 1,219th place on the Phillies' career home run list (since 1901).
"It was just a matter of time," he said.
The power surge did little to help the last-place Phillies, who lost 6–2 and fell to 22–27 on the season.