What We Learned From Stephen Hawking's 19-Page Study on England's World Cup Chances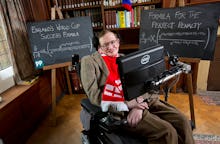 He's spent a lifetime contemplating and wrestling with the greatest mysteries of the cosmos, so it's only natural that Stephen Hawking would accept a commission to study England's mostly tortured World Cup history from an Irish bookmaker famous for posting odds on whether Barack Obama will be assassinated. 
"Ever since the dawn of civilisation, people have not been content to see events as unconnected and inexplicable," Hawking opened on May 21 at a press conference to unveil his findings in the basement of the Savoy Hotel in London. "They have craved understanding of the underlying order in the world. The World Cup is no different."
Through a technique of general logistic regression modelling, the 72-year-old theoretical physicist analyzed the 45 matches England has played in the tournament since its first and only World Cup triumph in 1966. He also examined the 204 penalties taken in shootouts, in which England has famously come up short on the international stage through the years.
The findings of the month-long study range from the obvious (England fares worse the farther they venture from home soil) to the counterintuitive (WAGs are not distractions). While Paddy Power declined to reveal how much it paid the Cambridge cosmologist for the study, Hawking said he was donating his fee to the Motor Neuron Disease Association and Save The Children's Syria appeal.
You can read the entire 19-page study here (in PDF form), but we've culled 10 of Hawking's most revelatory conclusions below.
1. England should wear red.
England has a 20% higher rate of success wearing red shirts than all-white kits. "Psychologists in Germany found red makes teams feel more confident and can lead them to being perceived as more aggressive and dominant," Hawking says.
2. Roy Hodgson should play a 4-3-3 formation.
England has enjoyed greater success through the years deploying a 4-3-3 formation (a 58% win rate) than when it has played a 4-4-2 (48%).
3. England should hope for a European referee.
England fares much better with referees from Europe (a 63% win rate) than with refs from anywhere else (38%). Notes Hawking: "European referees are more sympathetic to the English game and less sympathetic to ballerinas like [Luis] Suarez." (Shots fired.)
4. England wilts in heat.
"The temperate climes of London have been ideal playing conditions for the English team," says Hawking, who concluded a rise in temperature of 5 degrees Celsius decreases England's chances of winning by a whopping 59%. Not a good look for a team opening its World Cup campaign against the Italians in the Amazon.
5. England is better close to sea level.
The team is twice as likely to win when playing in stadiums less than 500 meters above sea level.
6. The ideal kickoff time is 3 p.m.
England's odds of winning improve one-third when the team kicks off at the customary 3 p.m. — another strike against the team's chances against Italy, a match that kicks off at 6 p.m. local time.
7. "Give it some welly."
"As we say in science, England couldn't hit a cow's arse with a banjo," quipped Hawking of the country's inglorious history from the penalty spot. The Three Lions have come up short in 6 of 7 shootouts at major international tournaments — including 3 of 3 at the World Cup — since they were introduced in 1978.
"Let's start with the technique," Hawking says. "Velocity is key. For this reason, get a run up of more than three steps. Give it some welly. There is only a 58% probability of scoring if your run up is three steps or less. Considerably less than the normal 87% probability of scoring otherwise.
"However, velocity is nothing without placement. If only I had whispered this in Chris Waddle's ear before he sent the ball into orbit in 1990."
8. Players with blond hair (or no hair at all) should take penalties.
Neither the age of the kick-taker nor whether he's left- or right-footed makes much difference, Hawking says. But bald-headed or blond-haired players are more likely to score. "The reason for this is unclear," Hawking notes. "This will remain one of science's great mysteries."
9. Goalkeepers should move from side to side.
Hawking found that how the goalkeeper moved when the ball was kicked impacts the probability of saving the penalty. Keepers managed to save (or create a miss) on 43% of penalties when they moved side to side, while only 25% were averted otherwise.
10. There's a formula to the perfect penalty.
Got all that?