Pope Francis Just Made a Radical Statement That Could Transform the Catholic Church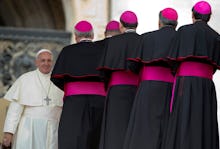 The news: Pope Francis made an unprecedented statement this week relating to priest celibacy.
On Tuesday, the pope said that it is not dogma that clergyman must be celibate. In other words, it's OK to have sex. Francis spoke about priests abstaining from sex and said, "It is a rule of life that I appreciate very much, and I think it is a gift for the church. But since it is not a dogma, the door is always open." Therefore, there is room for discussion of the 1,000-year-old Catholic rule, which means that it could potentially change. 
But while the notion may be radical for the Catholic Church, Francis has a running history of modernizing religious sentiment during his papacy thus far. 
At 78 years old, the Buenos Aires-born pontiff has been ushering in revolutionary ideas about where his political, moral, and ethical compass lies. An overwhelming 85% of Americans view him favorably and 68% of U.S. Catholics think Pope Francis represents a major change for the better, according to a recent study by the Pew Research Center. 
After a little over a year into his tenure, here is a look back at how Pope Francis is completely breaking with tradition and turning Catholicism into something fashionable:
In July 2013, Pope Francis said, "Who am I to judge?" Francis was responding to a reporter's question about the status of gay priests in the Church. The Pope has repeatedly clarified that the Church's purpose is not to condemn sinners for falling short of complying with Catholic law, especially in terms of issues with sexual or gender orientation. The Church is supposed to celebrate God's merciful love for any and all people.   
He drives a hipster-worthy vintage car. The pontiff drives a donated vintage 1984 Renault 4 around the grounds of the Vatican. (His predecessor was often transported in luxury vehicles like a BMW X5 and a Mercedes.) 
Pope Francis chose to not live in the Apostolic Palace. Completely breaking from Vatican tradition, Francis lives instead in a suite of rooms in the residence, Casa Santa Maria. He wrote of his decision saying, "I'm visible to people and I lead a normal life – a public Mass in the morning, I eat in the refectory with everyone else, et cetera. All this is good for me and prevents me from being isolated."
Francis has graced the covers of several magazines, including the New Yorker, Rolling Stone, Time, and The Advocate, which is a gay and lesbian magazine. 
He advocates for improvement in the lives of the impoverished. In 2013, Francis said, "In this system, which tends to devour everything which stands in the way of increased profits, whatever is fragile, like the environment, is defenseless before the interests of a deified market, which becomes the only rule. Inequality eventually engenders a violence which recourse to arms cannot and never will be able to resolve.
The pontiff criticized the situation between Israel and Palestinians as "unacceptable." Over this past weekend, the pope stopped at a concrete graffiti-covered barrier that separates Bethlehem from Israel. Francis stopped to pray, touching his head against the vandalized wall. He said, "There is a need to intensify efforts and initiatives aimed at creating the conditions for a stable peace based on justice, on the recognition of rights for every individual, and on mutual security." And the road to peace "must resolutely be pursued, even if each side has to make certain sacrifices."
Whether by driving a hipster-esque car, living in a modest apartment, or reshaping Catholic principles about sexual orientation or celibate priests, Pope Francis is definitely bringing a much needed updated image to Catholicism. And its name is: cool.