The Kickstarter Campaign to Revive 'Reading Rainbow' Succeeded In Just Half a Day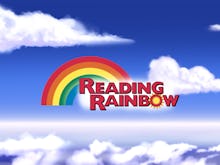 The news: "Butterfly in the sky. I can go twice as high. Take a look. It's in a book. A Reading Rainbow."
For 26 years, this song meant something special to American kids. The PBS program Reading Rainbow, hosted by actor LeVar Burton, introduced children to books and instilled in them a love for reading and learning. And as many things from the '80s and the '90s have been doing lately, it's coming back, thanks to crowdfunding.
On Wednesday morning, Burton created a Kickstarter to bring Reading Rainbow to a new audience. While he already launched a tablet app for the program two years ago, his new goal was to put the program on the Web for families, build a special version for classrooms and provide it for free to schools in need. "I believe that every child has a right, and a need, to be literate. We have a responsibility to prepare our children … and right now, the numbers show that we, as a society, are failing in that responsibility," he wrote on the Kickstarter page.
And people agreed. In just 12 hours, around 23,000 Reading Rainbow fans decided to pitch in, far surpassing Burton's initial goal of $1 million. By the end of the day, the Kickstarter had already raised $1.5 million, with 34 days left to go.
Watch Burton's Kickstarter video below:
Why this is important: Burton makes it clear that Reading Rainbow is not a "Hooked on Phonics" kind of program; instead of teaching the fundamentals of reading, it encourages children to love and explore books. Its more advanced focus is precisely why the TV show was cancelled back in 2009, as public funding was redirected to programs that better specialized in building reading skills.
But reading as a pastime has been steadily declining over the years. According to a recent report by Common Sense Media, "the percentage of 9-year-old children reading for pleasure once or more per week had dropped from 81% in 1984 to 76% in 2013, based on government studies. There were even larger decreases among older children." Worse, "about a third of 13-year-olds and almost half of 17-year-olds reported in one study that they read for pleasure less than twice a year."
And this translates to real impact on literacy and language proficiency. According to a report the National Education Association, "children who are read to at home enjoy a substantial advantage over children who are not." In the meantime, one-third of American fourth graders are struggling with "basic" reading skills, with white children performing significantly better than black or Hispanic children.
Image Credit: studentsfirst.org
There is a real demand for an engaging program that can challenge and encourage children to read on their own and develop their skills, and Burton believes that Reading Rainbow can fill that need. According to his estimates, kids using his app are reading 139,000 books each week total — and that number will rise with Web accessibility.
"You take advantage of where kids are. Back in the '80s that was in front of the television set," Burton told the Verge. "Today, you have to have access to the Web. Universal access is really what this effort is all about."