What Uruguay's President Was Doing Before He Became the World's Most Humble Leader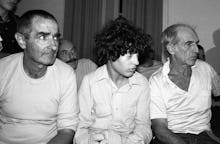 "When you think you've understood [Uruguayan President José "Pepe"] Mujica, when you think you've defined him, he will surprise you with something completely different and new and even contradictory," said Pablo Brum, the Uruguayan author of The Robin Hood Guerrillas: The Epic Journey of Uruguay's Tupamaros.
Dubbed the "World's Poorest President," 78-year-old Pepe is known for his simple lifestyle, having shunned the opulent Suárez y Reyes presidential mansion for the home where he and his wife have lived for years. Living in a small, one-bedroom farm with his wife, Senator Lucia Toplansky, and his three-legged dog, Manuela, he donates 90% of his salary to charity, has two plainclothes officers parked on a dirt road for security and grows chrysanthemums for sale in local markets.
Image Credit: AP. Mujica embraces his wife during his inauguration as president of Uruguay in 2010.
Before garnering international acclaim for his down-to-earth personality, lifestyle and surprise policies, including making Uruguay the first country to entirely legalize marijuana, Mujica leads a pretty radical lifestyle that he says seems like the stuff of fiction.
Image Credit: Getty Images. Mujica and his wife in 1997.
Growing up poor, Mujica never finished high school. As a teenager, Mujica met a socialist named Erro; for his charisma, he was offered a leadership role with a youth branch of a left-wing political party. In his twenties, Mujica traveled the communist world, including Moscow, Beijing and Havana, with financing from the party. He even met Argentine Marxist revolutionary Che Guevara and Cuban dictator Fidel Castro in 1959.
According to Mujica: El Florista Presidente, a biography by Uruguayan journalist Sergio Israel, Mujica became inspired by the Cuban Revolution, which pushed him to imagine a similar South American upheaval. He soon became one of the founders of Uruguay's Tupamaros, a Marxist urban guerrilla movement.
The group spearheaded a revolutionary, Robin Hood-like movement where they took over cinema houses and forced the audience to watch slide shows condemning the injustice of liberal democracy, and robbed banks to give back to the people.
Image Credit: Getty Images. Mujica with other guerrilla members on the day of their release. 
"They stole food trucks and then distributed the goods in the slums," said Brum. "They attacked government facilities like the national Naval Academy ... and without firing a shot, stole every gun, every vehicle in there, and left some smart propaganda banners."
Mujica was eventually captured in 1972, spent 14 years in prison, was shot by police six times and escaped twice. He also spent more than a decade in solitary confinement, often in a hole in the ground. He went more than a year without bathing and spoke to frogs and insects to maintain his sanity.
Although Mujica rarely speaks about his time in prison, he has said, "I learned that one can always start again."
After he was released and Uruguay's democracy was restored, Mujica channeled his passion into politics. He went on to serve as a congressman, senator and agriculture minister, and was elected president of Uruguay in 2009.
Mujica has even compared his radical past and durability to the Die Hard films. "Bruce Willis, my good friend. Every time I see those movies I say, 'You and I are made for this,'" he once said.
Mujica's time in the Tupamaros, turnaround and eventual game-changing rise to leadership speaks to the Uruguayan president's unpredictable and remarkable life's arc, and demonstrates how far he has come since his radical 20s. He himself put it best: "Not even the greatest novelist could have imagined what happened."