This Bodybuilder Just Defied Expectations With Her Groundbreaking Routine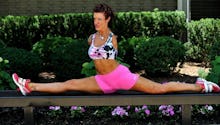 The huge crowd gathered at the North Charleston Performing Arts Center this week was in for a surprise when Barbie Thomas walked across the stage at the NPC Junior USA Bodybuilding Championship in South Carolina. Among the hundreds of men and women who participated in this body-building competition, Martin stood out, despite not winning any of the top awards.
An electrocution accident outside her Texas home as a toddler necessitated the ampution of both of Thomas' arms. Doctors doubted she would survive the accident, worrying she would be left forever in a vegetative state. But Thomas did survive, and 35 years later, she is thriving. For the past 11 years, Thomas has been pursuing her fitness and modeling career. And it seems to be paying off: At the South Carolina championships, Thomas got a standing ovation from the crowd. 
A single mom of two teenage sons, the Phoenix-based Thomas clearly doesn't let her physical obstacles get in the way of leading a regular life. 
Image Credit: Facebook
Image Credit: YouTube
She grappled with years of self-doubt before finally taking the leap and entering bodybuilding competitions.
"I'd say to anyone, you can do whatever you put your mind to," Thomas told the Daily Mail. "The only limitations are the ones you put on yourself. Everyone has limitations and handicaps in some way or another — mine are more visible than yours, maybe."
That attitude, coupled with an impressive work ethic, is paying off for Thomas.
The National Physique Committee (NPC), which is the amateur division of the International Federation of Body Builders, was so impressed with her performance in their fitness division in 2012, they gave Thomas their first-ever Inspiration Award.
Of course, the fitness competition isn't just about creating a beautifully sculpted body: The competitors also have to do a two-minute performance routine incorporating dance, cheerleading or gymnastic flexibility.
While many thought that was the part Thomas wouldn't be able to pull off, she showed off some of the most difficult moves for anybody. Her dance routines include splits, high kicks and even the ninja kip-up. While challenging herself to keep pushing the boundaries of her abilities, Thomas has empowered thousands.
"We were thinking, 'How can she do that routine?' but she blew our minds," Miles Nuessle, Arizona chairman of the NPC, told ABC last year. "She was absolutely beautiful. She was on the floor jumping up and doing splits. I don't know what half the moves were called. She was rolling all over the place and shaking it — sexy, athletic, fun and emotional. The crowd went nuts."
In between competitions, Thomas has begun dabbling in other areas, including acting and motivational speaking. 
"I was actually up for an acting job when Steven Spielberg was making the film A.I." Thomas told the Huffington Post in 2013. "They wanted me to be a robot, but I was pregnant with my second child, and I don't think they wanted a pregnant robot."
Through it all, Thomas said she hopes people will come away from her performances with a sense of purpose — and inspiration.
"I don't want people to feel sorry for me," she said. "I feel like God had a plan."