What's Become of Psy Since "Gangnam Style?"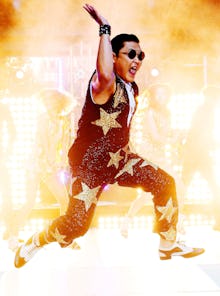 If every view on "Gangnam Style" came from a different person, then 28% of the world's population could probably recognize Psy by now. That's the kind of star power almost nobody achieves. Today, the video is slated to earn its two billionth view. But it's been almost two years since the viral video's release, though, and no one can name anything else one of the most recognized artists in the world has done.
Most anyone can identify the song's dance —  the crossed wrists, the galloping legs, the lassoing arm. "Gangnam Style" became an international pop hit on a level that few other songs have, effectively launching an entire genre — Korean pop, otherwise known as K-pop — into Western consciousness. At the end of 2012, the music video hit 1 billion views, becoming the most popular video ever posted on YouTube. And now it's about to double that record.
But the song's creator, as far as pop culture is concerned, is nowhere to be found.
That's not by his own choice — Psy has been intent on holding onto the spotlight. His most recent single, "Gentleman," has earned hundreds of millions of views since its release a year ago and managed to ignite some of the same viral video passion. But in terms of influence, the song has failed to make even a comparable impression. He's tried promoting it, performing "Gentleman" exclusively on talent shows like American Idol, Dancing with the Stars and Britain's Got Talent. But it won't stick.
Psy has been trying not to let go of his creative endeavors. In March, Psy's record label, YG Entertainment, which is also home to K-pop sensations like 2NE1, Big Bang and Epik High, confirmed that Psy was indeed filming with Snoop Dogg (re: Lion) and fellow YG recording artists CL and G-Dragon. News surfaced on Thursday that Psy would release an album in June featuring, among others, Snoop.
It sounds like viral gold, but it's clear that Psy's career is stuck — maybe irrevocably.
But in the years since "Gangnam Style," Psy has had a hard time doing anything other than replay the song's success — even "Gentleman" is very similar. He's had to rely on the signature tune as a way to showcase his goofiness, like when he parodied himself in a pistachio ad during last year's Super Bowl. He also danced along when Samsung tapped him to promote a Zipel M9000 refrigerator. "Gangnam Style" launched him into a strange world of fame that denied Psy his status as a talented, Berklee-trained musician and turned him into a goofy likeness rather than a creator.
That likeness is quite literally the face of South Korea. This past year, he was recruited as the country's tourism ambassador, filming a series of commercials to promote places to eat, drink and visit around the country.
"Through him, we're trying to introduce the more modern and fun Korean cultural concepts," said Kang Jong-soon of the Korean Tourism Organization, whose 15-second ads feature Psy's "Wiki-Korea," segments in which the pop star explains and acts out different attractions of South Korean culture.
But as an official spokesman for South Korea, Psy is only realizing something that's been happening to him unofficially. His rapid stagnance in the West as a one-trick goofball is sadly telling. In the last couple of years, he has become a caricature of his own South Korean identity, thriving as a sort of Asian male "jester" in the U.S. He fills a role similar to William Hung and Ken Jeong. Sure, the pop star is often credited with bringing K-pop to Western attention, but "Gangnam Style" also reinforced certain Asian stereotypes in the media. Psy is seen as non-threatening — a jolly, middle-aged man with little sex appeal who prances and laughs throughout colorful videos.
That's why Psy has been stuck in a moment. He reportedly finished recording an album last December, with little talk until just now of a definite release date.
"We're not confirmed on the time when Psy will make a comeback," a YG rep said back in March. "Everything related to the comeback are still under discussion." But with two of the most highly viewed videos in history debuting within the past two years, the talk of a comeback is both surprising and revealing. Psy has to comeback from his own success — a platform built on a lack of control over his image.
Updated May 30, 2014