The L.A. Clippers Are Finally Getting Rid of Donald Sterling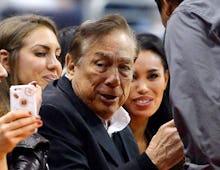 The news: Good news, everyone. The L.A. Clippers are finally getting rid of Donald Sterling — but not before he gets a fat chunk of cash first.
The disgraced billionaire, who became a household name for his racist and truly bizarre remarks, is finally losing ownership of his NBA team. After the organization banned him for life, it moved to sell the Clippers and started a bidding war. Sterling's estranged wife, Shelly, arranged the sale, and his family trust has signed off the sale — which is set to net a cool $2 billion.
The deal still needs to be approved by three-quarters of the NBA's 29 team owners, but it's expected to close without any trouble. The sale will be the highest in NBA history, and second-highest ever for any North American sports franchise, and the story is being spun as a win for everyone: the Clippers and the NBA lose their toxic baggage, and Sterling gets to add a couple more billions to his fortune.
So who is the buyer? The Clippers' new owner will be none other than Steve Ballmer, the former CEO of Microsoft. Ballmer, one of the company's founding members and a college buddy of Bill Gates, unexpectedly stepped down from his Microsoft position earlier this year after some nudging from other board members.
Since befriending Gates at Harvard, Ballmer attended Stanford Business School and took on the role of Microsoft's business manager in 1980, becoming the company's 24th employee. He served as president from 1998 to 2001, and became CEO when Gates stepped down to focus more on his philanthropic efforts.
He kept that position for over a decade, eventually resigning in February of this year. Forbes' annual ranking of international billionaires put the 58-year-old Ballmer at number 35, with a net worth of $20 billion.
What will happen next? The deal still needs Sterling's approval, but it would be hard for him to resist: It's a huge profit for the billionaire, who bought the team for just $12 million back in 1981. Of course, much of the $2 billion will go to the other members of the family trust, most notably to Sterling's wife — but considering the damage that he's done to the team's reputation, Sterling is lucky to get off with such a good deal.
And this will be a new chapter for the Clippers. They'll no longer have to deal with the distractions of a racist owner, and can actually focus on what matters: basketball.