Coaches Told This Teen She Was Too Heavy to Succeed, But She Showed Them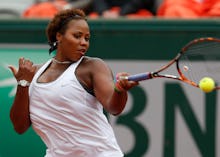 An 18-year-old American tennis player beat the No. 1-ranked French player Alize Cornet on her own soil in the second round of the French Open last week. Taylor Townsend, the teenager from Chicago, didn't just make a powerful statement by beating the No. 22 seed in her debut main draw at a Grand Slam, however. Townsend's victory sent a message to those who make assumptions or discriminate against female athletes on body image. 
As a junior player, Townsend was a tennis phenom. She won the girls' singles and doubles titles at the Australian Open, the doubles title at Wimbledon and the U.S. Open and the singles title at the prestigious Easter Bowl in 2012. That year, Townsend also became the first American to hold the year-end No. 1 junior ranking since 1982. 
However, there was a problem. At 170 pounds, Townsend didn't match the stereotype of the tall, thin, female tennis player. And for those at the United States Tennis Association (USTA), her wins weren't enough. The USTA denied her travel expenses to the U.S. Open two years ago until she got in better shape.
Apparently, Townsend's USTA coaches wanted her to "slim down." Although Townsend had long given up eating burgers and junk food, her body size wasn't up to snuff in the eyes of the USTA. Earlier that year, they also made her withdraw from tournaments to work double time on her fitness.
That a young, world-class player was denied support due to her body size — and not her results — is infuriating. But Townsend did just fine at the U.S. Open that USTA didn't want her to attend that year. She reached the quarters and won the junior doubles title. As her mother remarked after the tournament, "Serena can't look like Sharapova."
And that is something that more people need to understand. Not all female athletes can look svelte, and they shouldn't be forced to. Though it was tough for Townsend to cope with the fuss surrounding her weight, she said she drew support from social media. Off the court too, Townsend is a delight to watch, with her declared love for Roger Federer and her Nae Nae victory dance. 
Image Credit: AP
"The biggest thing was just getting her to understand that she's fine," her coach, Zina Garrison, told the New York Times. "Everybody doesn't have the same shape of our bodies. She's very clear on that now."
"I challenge over half of these girls out here to do some of the stuff that she does."
Body image issues have been a topic of debate among female tennis players specifically for some time now. Athletes from Martina Navratilova to world No. 1 Lindsay Davenport and Serena Williams have received flak for their bodies.
"My sister Venus was so tall and slim, and just being in a society where a lot of people are really thin, it was hard ... especially as an athlete," Serena said last year. "No athlete has boobs like me, but I had to learn how to embrace myself and embrace my curves ... and that's something a lot of people can relate to."
Serena put that all behind her to become one of the most successful women tennis players and although Townsend was knocked out of the French Open by Carla Suarez Navarro on Friday, she, too, is well on her way to proving she won't let naysayers get in her way.