One U.S. State Has Way More Bars Than Grocery Stores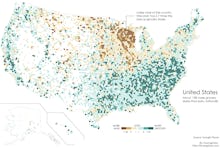 The news: Nationally, the U.S. has 13% more bars than grocery stores. But of all the states, this map from Flowing Data's Nathan Yau shows that Wisconsin goes above and beyond as the land of the free-flowing taps and the home of the extremely drunk, with 2.7 times as many bars as grocery stores.
From a strictly geographic perspective, it's easier to find Jack Daniels than Uncle Ben in Wisconsin, the state with the third-highest per capita rate of bars in the country. With about 8 bars per 10,000 people, Wisconsin ranks behind North Dakota and Montana at 9.9 and 8.6 respectively, but way outpaces every other place in the country on the bar:grocery ratio.
Image Credit: Flowing Data
Delaware, Maryland and Mississippi have the lowest rate of bars with under 1.5 per 10,000 people.
The background: The Washington Post's Abby Phillip notes that local papers attribute Wisconsin's heavy drinking to the state's German and European heritage, which seems a little passé considering it's been centuries since the area's original colonization. And Yau found that Germany actually has a low bar ratio compared to France or Spain.
Unfortunately, the states with the bars also seem to be the ones with the biggest drinking problems. The Milwaukee-Wisconsin Journal Sentinel laments that "Drinking isn't just something we do to pass time at the ballpark or Summerfest or a Halloween party. It is, for better and worse, an element that helps define Wisconsin as Wisconsin, part of our identity ... The federal government estimates that alcohol claims some 1,250 Wisconsin lives a year — about 2.7% of all deaths statewide. That's nearly twice the number that die from prostate cancer."
North Dakota, which has the highest number of bars, leads the nation in underage and binge drinking rates. Montana was ranked in 2009 as having the nation's fourth-highest per capita alcohol consumption rate, with a stunning 435 beers per adult in 2003 — more than a beer a day. Report author Patrick M. Barkey estimated the cost of alcohol to society in Montana at more than half a billion dollars when considering everything from rehab and car accidents to bar brawls, arrests and broken windows.
Why you should care: There's nothing wrong with responsible drinking, and no one likes to be lectured about enjoying a night out at the bar. But in excess, drinking kills and injures people, ruins lives and causes immense economic damage. It's possible that this might not be one ranking Wisconsin (or North Dakota and Montana) should be particularly proud of.