This Incredible Goal Just Made History for Palestine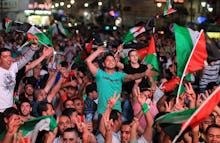 History was made Friday in the Maldives when Palestine defeated the Philippines in the final of the AFC Challenge Cup.
With the 1-0 victory, Palestine earned a place in next year's Asian Cup, the first major international tournament in the team's 16-year history.
Palestine controlled the run of play early but failed to capitalize as the teams entered halftime scoreless. The deadlock was finally broken when a clumsy foul outside the box gave Palestine a dangerous set-piece opportunity in the 58th minute.
That's when Ashraf Nu'man Alfawaghra struck a sublime free kick that curled into the top-left corner.
Alfawaghra's sixth goal of the tournament — watch it with English commentary here — prompted celebrations in Palestine, where people gathered in the streets to watch.
"All the world now sees Palestine," said Ramzi Saleh, the Palestinian goalkeeper who didn't concede a goal in the tournament. "I am very happy."
Palestine was first recognized by FIFA in 1998 — one of Sepp Blatter's first moves as president of soccer's international governing body — but did not play its first official home game until 2008. The AFC Challenge Cup, a second-tier competition for nations categorized as "emerging countries," represents its first trophy.
The Redeemers enter into Group D at next year's Asian Cup, alongside Japan, Jordan and Iraq. The tournament runs Jan. 9-31 in Australia.