Did President Obama Break the Law to Save This Soldier's Life?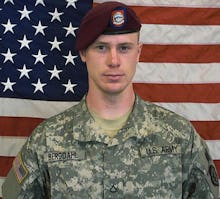 The news: After nearly five years of being held in captivity by the Taliban in Afghanistan, a U.S. soldier is on his way home. But instead of celebrating, many Republican lawmakers are accusing President Barack Obama of breaking the law to get Sgt. Bowe Bergdahl back to U.S. soil. 
Bergdahl's release was part of a deal brokered with the Taliban. But his release came with a price: releasing five Afghan Taliban prisoners from the Guantanamo Bay prison. After Bergdahl was in confirmed custody of U.S. Special Operations forces, "the influential [Taliban] commanders, including the former head of the Taliban's army, were loaded onto a U.S. military aircraft bound for Qatar," reported the Washington Post. 
By law, the administration must notify Congress about its intentions to release Gitmo prisoners with 30 days notice. According to a White House official, the administration was forced to move quickly due to the "unique and exigent circumstances," and were therefore able to bypass the law. 
It is important to note that when this law was passed last year, "Obama issued a signing statement contending that the notification requirement was an unconstitutional infringement on his powers as commander in chief and that he therefore could override it."
GOP outcries: The five Gitmo detainees will be flown to Qatar and be placed on a year-long travel ban to ensure they don't return to Afghanistan to join the war.  
Defense Secretary Chuck Hagel informed Congress of the deal and Bergdahl's release on Saturday, after it had already taken place. Several Republicans have been publicly criticizing the exchange ever since, voicing safety concerns for American forces and the American public.
Rep. Howard P. McKeon (R-Calif.) and Sen. James M. Inhofe (Okla.) said in a joint statement, "Our terrorist adversaries now have a strong incentive to capture Americans. That incentive will put our forces in Afghanistan and around the world at even greater risk."
Sen. John McCain (R-Ariz.) said that the Guantanamo Bay prisoners are "hardened terrorists who have the blood of Americans and countless Afghans on their hands." McCain wants to know what steps are being taken to make sure that the prisoners won't engage in activities that could threaten the U.S. or the prospects of peace in Afghanistan. 
Jani and Bob Bergdahl, Beau's parents, with President Obama. Image Credit: Getty
An old promise: In June 2007, President Obama vowed to close the Cuban detention facility at Guantanamo Bay. And with the release of only five prisoners of the total 154 detainees still held there, Gitmo's closure does not appear to be as imminent as Obama made it seem years back. Public pressure has mounted in recent years for the eradication of the facility, and the 2013 prisoner hunger strike shed new light on that. 
However, Obama mentioned to NPR this May that he is "just chipping away at" the problem. Which means that more than 140 men will remain there without any semblance of a trial or due process until the U.S. can figure out where to place all of the detainees.
The release of the Taliban prisoners to Qatar and the return of a U.S. POW is a victory nonetheless. Gitmo's numbers go down, and Bergdahl will be reunited with his family after being held in captivity for so many years.
Bergdahl's parents said in a statement Saturday, "We were so joyful and relieved when President Obama called us today to give us the news that Bowe is finally coming home! We cannot wait to wrap our arms around our only son. Today, we are ecstatic!"