The Hottest Baseball Card in The World Right Now is From a Japanese Set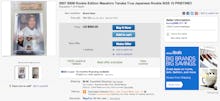 American sports card companies are always looking for a new gimmick. (Game-used dirt, anyone? What about a lock of Abraham Lincoln's hair?) But while the search for game-used "relics" may get old, sports card collectors will always be drawn to the rookie cards of the hottest new debutantes.
This year, the biggest new star in Major League Baseball is undoubtedly New York Yankees ace Masahiro Tanaka, who is 8-1 with a 2.06 ERA through his first 11 games, putting him in the early running for the AL Rookie of the Year and Cy Young awards.
Unlike former freshman standouts Mike Trout or Bryce Harper though, Tanaka isn't new to the professional game, having spent seven seasons pitching for the Rakuten Golden Eagles in Japan. This means that a Japanese sports card company, BBM, beat iconic American brand Topps to the punch, creating Tanaka rookie cards in 2007, two years before Topps created a few Tanaka cards ahead of the 2009 World Baseball Classic.
The designation of what is and isn't a "rookie card" is subject to debate, but collectors are generally looking for the first appearance that a player has made on a sports card. So while 2014 cards of a pinstripe-clad Tanaka hold some worth — Topps Chrome's 2009 card even more so — BBM's 2007 cards are the real trophies.
A few versions of 2007 Tanaka cards exist, meaning that there is no agreed-upon iconic rookie edition, like the panacean 1989 Upper Deck Ken Griffey Jr. card. Still, each of them, in "pristine" condition, could sell for hundreds of dollars right now. The fact that these Japanese cards have thin, dark edges that are susceptible to chipping means that finding ones in perfect condition is especially tough. And that makes these cards even more valuable.
Four BBM "Rookie Edition" cards of Tanaka with 10-out-of-10 condition grades are currently listed on eBay in the $850-$950 range. A different 2007 card (also with a grade of 10) is listed with a Buy It Now price of $400. Collectors willing to settle for cards with grades of 9.5 will still have to pony up at least $140. Ungraded cards — some collectors are less focused on condition grades — are in the $45 range.
Of course, you can always try to find a Tanaka card the old-fashioned way. An unopened box of 2007 BBM packs is running for $499 on eBay. You might even pull two Tanaka cards. Just hope that those edges aren't chipped.