New Study Reveals a Surprising Relationship Between Televised Sports and Crime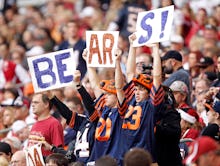 Ray Lewis was ridiculed in 2011, amid the longest work stoppage in National Football League history, when he posited there would be an uptick in criminal activity if the NFL lockout extended into the regular season.
"Do this research if we don't have a season: Watch how much evil, which we call crime, watch how much crime picks up, if you take away our game," the longtime Baltimore Ravens linebacker said. "There's too many people that live through us; people live through us. Yeah, walk in the streets, the way I walk the streets, and I'm not talking about the people you see all the time."
The words, broadly dismissed as Lewis' signature hyperbole, were mostly forgotten. But they inspired Ryan Copus and Hannah Laqueur, two Ph.D. candidates at Berkeley Law, to put the hypothesis to the test.
According to their research, Lewis was right.
Copus and Laqueur compared citywide crime reports in Chicago by the half hour when the Bears, Bulls, Cubs and White Sox were playing to crime reports at the same time, day and month when the teams were not playing.
When the Bears played on Monday Night Football, there was 13% less crime reported. The drop was even more pronounced during the Super Bowl, when it fell 26%. The results reflected similar, but smaller, effects for the city's baseball and basketball teams.
Image Credit: Entertainment as Crime Prevention: Evidence from Chicago Sports Games
Notably, the stats reflected a larger drop after the Bears won on Monday night (17%) than when they lost (6%).
"We believe fewer potential offenders on the streets largely explain the declines in crime," Copus and Laqueur wrote.
The research allows for alternate explanations: that sports games engender conditions that offer fewer criminal opportunities, or that crime reporting and not crime itself is lower. A third reason suggests that police, rather than making arrests, are preoccupied with watching or listening to the game.
But Copus and Laqueur debunk these explanations in their conclusion.
"We find significant reductions in crime during televised sports games implies some individuals trade off participating in criminal activity for watching sports," they wrote. "This lends support to theories of crime that suggest some share of criminal behavior is recreational and opportunistic. If crime is not predetermined and calculated but rather is itself a form of recreation, the drops we find are not surprising — they represent the substitution of one diversionary activity for another."
The entire 27-page study, "Entertainment as Crime Prevention: Evidence from Chicago Sports Games," can be read here.