What Beats by Dre Are Actually Doing to Your Ears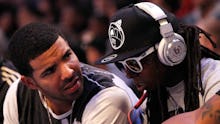 Last week, Apple purchased Beats Music for $3 billion — the largest acquisition the company has ever made. With it, the company acquired Dr. Dre and longtime Interscope Geffen A&M Records executive Jimmy Iovine, the men behind Beats and a "sound revolution" who are actually doing irrevocable damage to our ability to appreciate music.
They aren't alone in it. Beats is just the biggest representative of the cultural trend of constant headphone use, and the silent epidemic that has come with it.
Dre and Iovine's headphones are engineered so that you "hear your music the way the artist would play it back" — specifically, the way hip-hop and rap artists, like Dre, would want to play it back: with a lot of bass, in the way that leads to hearing loss. For most high-quality headphone brands, that's the sell.
Beats' headphones have been flaunted in rap music videos and touted as expensive fashion accessories, creating a commercialized hip-hop culture that stems from the celebrity of Dre's production history. As a result, much of Beats' engineered appeal is in its emphasis on low, bass-heavy frequencies of the "Xxplosive" sort. It makes sense: Rap and hip-hop are often characterized by their heavy, booming bass lines. And while a human ear normally registers frequencies anywhere between 20 Hz and 20 kHz (or 20,000 Hz), the sub-bass sounds in rap songs, like a classic 808 drum kick, will range as low as 80 to 20 Hz. The lowest A on a piano, for example, vibrates somewhere around 25 Hz. In order to hear those notes, you have turn the volume way up.
Frequencies that are often "felt" through stereo systems are what Beats and other high-end headphones aim for — that's the way the artist produced it in the studio. But sometimes, those bass-heavy details can be too much. While Beats can recreate the feel of a tight, punchy bassline, a boomier backdrop, like Wu-Tang's "C.R.E.A.M," has the tendency to overpower and weaken a song's mid-tones, things like guitars and voices. So in addition to having louder bass from the get-go, listeners often turn up headphone volume in order to hear those higher frequencies, and consequently "feeling" the bass affects our ears even more. Deeper bass means louder playback, especially when we're listening to the sort of hyper-compressed, ear-fatiguing music that is associated with mainstream pop and hip-hop. And it's nothing new that prolonged exposure to loud music, especially through headphones, causes hearing loss.
It's considered safe listening to music at 85 decibels or lower. Crank your Beats all the way up to their 115-decibel peak (the kind of volumes you might reach when on a loud train) and you could experience severe hearing loss after just 15 minutes of listening every day. When our ears are frequently exposed to high decibels, the inner ears' hair-like fibers, called stereocilia, which are responsible for activating frequencies of particular sounds, can be permanently damaged over time. This can lead to noise-induced hearing loss, which is often ignored, or tinnitus — aka that buzzing in your ears after a night of loud music. Even though that buzz may be gone by the morning, its damaging effects can linger.
And we may just keep turning it up. While many have already anticipated a deafness epidemic, it seems increasingly likely. In 2010, the Journal of the American Medical Association found that 1 in 5 U.S. teens already suffer from hearing loss, and 1 in 20 have "mild or worsening" symptoms. So if Beats is leading a sonic revolution, it's worth remembering: Sometimes revolutions end badly.