These Powerful Videos Show the Possibilities for Life After 'Orange is the New Black'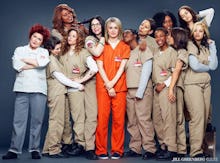 It's easy to sensationalize prisoners. The always colorful, sometime racy prison scenes are what entice many viewers to watch TV series' like Orange is the New Black, which returned Friday to Netflix. The show has an amazing cast, including transgender star and TIME cover Laverne Cox, but so far it has only hinted at the larger structural issues that have made the United States' criminal justice system so corrosive.
In fact, America's prison population has quadrupled since 1980. Of the entire world's prison population in 2010, 1 in 4 was imprisoned in the U.S. In 2013, 2.4 million Americans were serving time in prison or jail. In other words, 1 out of every 100 American adults is behind bars.
People of color are also disproportionately represented in the criminal justice system. In his book The Collapse of American Criminal Justice, William J. Stuntz claims that 10% of black adults and 9% of white adults use illegal drugs. However, black people are nine times more likely to serve prison sentences for drug crimes than white people.
According to the Center for American Progress, 1 in every 15 African-American men and 1 in every 36 Hispanic men are incarcerated, while only 1 in every 106 white men are serving time. Women of color are also overrepresented: African-American women are three times more likely than white women to go to prison, while Hispanic women are 69% more likely than their white counterparts to be incarcerated. 
But there is slight cause for hope. In the last few years, reducing the United States' prison population has been an unexpected source of consensus across both sides of the aisle. Lower crime rates and tight budgets have motivated both liberals and conservatives to reduce sentences, particularly for non-violent offenses, and let more prisoners reenter the community.
Nearly 95% of incarcerated Americans will come back to society, but what they do after is less certain. In April, the Bureau of Justice Statistics reported that in a study of 404,638 state prisoners from 30 states released in 2005, 67.8 percent of them were re-arrested within three years of their release and 76.6 percent were re-arrested within five years. This rate of recidivism is highest during the first year, making the effort to integrate former felons into the workplace during this time essential.
But while recidivism is clearly a major issue, there are some amazing examples of people who have served their time and gone on to do incredible work, including many of whom have given TED talks. The former prisoners on this list may make even the most skeptical believe in the possibility of rehabilitation. 
1. From second-degree murder to educating.
It is hard to believe that less than four years after serving a 20-year prison sentence, Shaka Senghor became an MIT Media Fellow, University of Michigan professor, TED speaker and thought leader. The title of his talk at TED 2014, "Misdeeds Do Not Define You," is basically the story of Senghor's life.
At the age of 19, drug-dealing Senghor shot and killed a man. He then went to prison for two decades for second-degree murder. Now, Senghor mentors at-risk youth and facilitates an atonement project between perpetrators and victims' families. He also talks across the country about the importance of rehabilitation, something he thinks is sorely lacking in the criminal justice system. Senghor strongly believes that most incarcerated men and women are redeemable.
Here, you can watch Shaka Senghor beautifully address a TEDx Youth event in his talk, "Infinite Possibility."
2. From robbery to entrepreneurship.
A.J. Ware, who served four years for robbery with a dangerous weapon, sold several businesses and now runs nonprofit Inmates to Entrepreneurs. Ware understands firsthand how hard it is for ex-cons to get employment, particularly when employers force candidates to reveal their criminal record in the application process. When Ware left prison, he got beyond this barrier by starting his own business. He launched a house painting company with only $25. It became a $3 million-revenue generating business, which he then sold.
Founded in 2008, Inmates to Entrepreneurs aims to reduce recidivism among former prisoners while increasing the number of small businesses in the North Carolina region. Similar to his house painting business, Ware advises ex-cons to start low-capital ventures so that they can start making money quickly.
3. From corrupt politics to public service advocacy.
Jeff Smith was an up-and-coming star in the Missouri state Senate. Unfortunately, power got the best of him, and he got caught covering up an election law violation. While Smith spent a year in federal prison, he learned how entrepreneurial his fellow inmates were.
Since leaving prison, he has advocated for those he was locked up with, convincing businesses and citizens of their great workforce potential. He believes untapping their entrepreneurial spirit will help them reenter and benefit society.
4. From juvenile delinquency to community organizing.
Although Lateefah Simon was involved in the juvenile justice system in her teenage years, she turned her life around with the help of nonprofits in San Francisco like the Center for Young Women's Development (CYWD).
She soon became a force to be reckoned with: At age 19, she was the executive director of CYWD. During her tenure, she was awarded a MacArthur "Genius" grant. Since then, she has won many distinctions and lead many organizations. Now, she serves as the director of the Rosenberg Foundation's California's Future Initiative.
A lifetime community organizer, Simon tells the inspiring story of how the community supported her family while her husband fought leukemia. 
5. From felony murder to storytelling.
Mary Heinen was in an abusive relationship. One day, she and her husband were part of a robbery that went bad, an act of violence that resulted in her serving 26 years in prison.
While she was in prison (and still had the name Mary Glover), she co-founded the Prison Creative Arts Project with University of Michigan professor Buzz Alexander, which co-facilitates arts workshops in Michigan prisons. She was also the lead plaintiff in the groundbreaking case Glover v. Johnson, which ensured gender equity in prison vocational and educational programming.
Since leaving prison, Heinen has worked at various organizations helping former prisoners reenter society and won numerous titles, including a Soros Justice Fellowship. In her talk "Untapped Freedom," she shows us how new media organizations are helping prisoners tell their stories to the outside world.
6. From drug dealing to consulting.
Tulio Cardozo was serving a six-year sentence for manufacturing cannabis in California's San Quentin prison, one of the highest security prisons in the nation. Soon after leaving prison, he participated in a life-changing entrepreneurship program called the Last Mile, which trained prisoners (and a few former prisoners) in entrepreneurship and tech skills. 
From this workshop, he created the idea for his company Collaborative Benefit. It's essentially the "LinkedIn" for former prisoners: a Web-based platform where prisoners and formerly incarcerated individuals can display their talents to potential employers. CB also lists resources that can help support individiuals' reentry and guides applicants and employers through the hiring process. 
In this talk, "How Changes and Second Chances Happen," Cardozo talks about how he got to prison and taught himself to be a software developer while incarcerated, the difficulties he faced gaining employment, and how these experiences motivated him to start Collaborative Benefit.