Texans Who Bring Guns to Restaurants Probably Never Expected What the NRA Just Said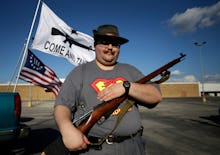 The news: Well, it's not every day that the National Rifle Association (NRA) calls out extreme gun owners, so let's savor this moment while we can.
Texan gun enthusiasts' campaigns to openly carry automatic weapons in public has drawn controversy and backlash in the recent months. Companies like Starbucks and Chipotle have asked customers to stop bringing guns to their premises, and now, even the NRA is criticizing these activists for their tactics.
On Monday, the organization posted a statement on its website calling for good behavior among gun owners. Although it doesn't mention groups such as Open Carry Texas by name, it does mention that in Texas, "A small number have recently crossed the line from enthusiasm to downright foolishness."
"Let's not mince words, not only is it rare, it's downright weird and certainly not a practical way to go normally about your business while being prepared to defend yourself," the NRA said of the recent publicity stunts. "To those who are not acquainted with the dubious practice of using public displays of firearms as a means to draw attention to oneself or one's cause, it can be downright scary. It makes folks who might normally be perfectly open-minded about firearms feel uncomfortable and question the motives of pro-gun advocates."
The admonishment is, at heart, a business decision. Open Carry Texas' provocative campaign has already led seven restaurant chains to institute guns bans, while high-profile organizations such as Moms Demand Action for Gun Sense in America and Mayors Against Illegal Guns have taken the opportunity to attack guns in general.
If the campaign's goal was to acclimate people to the sight of guns in public, it's certainly backfiring. "The display of firearms in our restaurants has now created an environment that is potentially intimidating or uncomfortable for many of our customers," a Chipotle spokesperson said last week.
Image Credit: AP
The NRA is worried about backlash, which could have a negative impact on the greater pro-gun movement. Calling the Texans activists "an attention-hungry few who thought only of themselves," the NRA argued that these publicity stunts are "counterproductive for the gun owning community": "If we exercise poor judgment, our decisions will have consequences ... such as turning an undecided voter into an antigun voter because of causing that person fear or offense."
So while there are very legitimate reasons to be concerned about guns in public, the NRA's stance in this case less ideological and more practical. While the organization may be staunchly pro-gun, it is still a lobbying group that is beholden to the public for approval and funding. If that means throwing some extreme members under the bus, so be it.