This U.S. City Now Has the Highest Minimum Wage in the World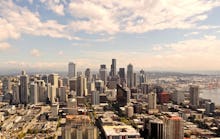 The news: The world's highest minimum wage will no longer belong to a country, but to an American city.
On Monday, the Seattle City Council unanimously passed an ordinance to raise the city's minimum wage to $15 an hour. The move, which will gradually increase the pay floor over the next few years, will make Seattle the minimum wage capital of the world.
"Throughout this process, I've had two goals: to get Seattle's low-wage workers to $15 per hour while also supporting our employers, and to avoid a costly battle at the ballot box between competing initiatives," said Seattle Mayor Ed Murray last month, when the measure was still up for debate. "We have a deal that I believe accomplishes both goals."
How will this work? Washington state already boasts the highest minimum wage in the country at $9.32 an hour, but that was not enough for Seattleites. The new ordinance, which was worked out during a 16-week committee session with labor leaders and business organizers, had wide support among the public and was a backbone of Murray's campaign.
Seattle is offering a phased plan to help business owners adjust their operations. Big businesses will have three years to transition to the new minimum wage, and statewide implementation of the new law will take place by 2021. Once the $15-an-hour pay level is achieved, any further raises will be linked to cost-of-living increases.
Image Credit: The Seattle Times
Though Australia's minimum wage may be nominally higher at $16 an hour, that number drops when you consider purchasing power parity (PPP), an exchange rate that determines the relative value of different currencies. With PPP, the world's highest minimum wage actually belongs to Luxembourg at $10.37 an hour, which Seattle's new pay floor easily surpasses.
Image Credit: Quartz
What about the rest of America? With the Congress in perpetual quagmire, a state-by-state adoption of higher minimum wage is more likely than a federal plan. Last month, Hawaii joined Connecticut and Maryland to become the third state this year to raise its minimum wage to $10.10 per hour — the amount prescribed by congressional Democrats. Already 34 other states have introduced similar legislation for higher pay.
For now, don't expect other cities to go as high as Seattle — $10.10 is probably a much more feasible option. But the ongoing introduction of state minimum wage laws will hopefully put much-needed pressure on Congress to stop this election year showdown.