This Is What Happens to the Losing Team's Super Bowl Shirts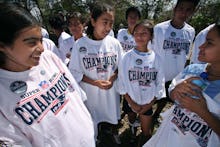 Four months after the Denver Broncos' humiliating performance in Super Bowl XLVIII, thanks to an intrepid tweeter, we now get to see what Peyton Manning and his teammates would been able to wear if they had been able to hoist the Lombardi Trophy.
Adam Paul, a youth pastor and seminary student living in Kansas City, tweeted and Instagrammed these photos as he helped the Christian charity World Vision with its annual shipment of NFL championship apparel to underdeveloped nations.
Although it's unclear where exactly this year's approximately 100,000 pieces of Broncos apparel will be sent, in the past, World Vision has divided the clothes into four shipments and sent them to countries in Africa, Latin America and Eastern Europe. In other words, places where clothes are unlikely to get into the hands of American sports fans who might be seeking them out for their masochistic or humorous appeal.
These clothes are not just a couple of hundred items that were in New Jersey's MetLife Stadium, ready to be worn by jubilant Denver players. They are tens of thousands of items that Colorado, Wyoming, Utah and other pro-Broncos sporting goods stores had in their warehouses, waiting to be placed on the store shelves the day after the Super Bowl.
Superficially, this process looks like a win-win: Clothes that were once destroyed are being sent to needy communities, while the sports leagues (the NFL, NBA, MLB and NHL all partner with World Vision) are able to make a tax-deductible donation.
However, despite the adorable photos of kids in oversized T-shirts that result from the leagues' partnerships with World Vision, this practice has its critics who consider it a high-profile example of "bad aid." The detractors say that the sudden influx of unwanted clothing in these places only disrupts the local economies by decreasing the value of the clothes produced there. Arguably, money spent to coordinate this logistical operation could have been better used on developing the local infrastructure.
World Vision has responded to these criticisms by saying that the charity is dedicated to long-term development, and conducts prior research to learn about the local economy before it sends thousands of T-shirts, hats and sweatshirts.
"We need to take this seriously," World Vision operations director Jeffrey Wright said when met with criticism in 2011. "[The critics] are raising good points. We do need to be using all of the resources at our disposal to do the best possible aid we can do."
With no publicized changes having occurred in these past three years, it's fair to assume that for the time being, these shipments will continue. And for there to be another overseas shipment of San Antonio Spurs T-shirts in about four months' time.