Why Tupac Is Still the Most Important Rapper of Our Generation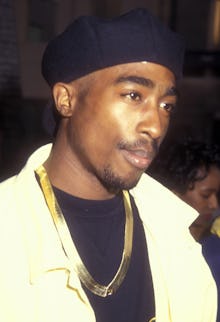 If Tupac Shakur had not been murdered almost two decades ago, he would be celebrating his 43rd birthday in just a few short weeks. Were he alive, he'd be the same age as veterans of the game like Snoop Dogg and Jay Z. Snoop calls himself the uncle of rap. Tupac, then, would be its father.
Eighteen years later, Tupac is still cited among this generation's favorite rappers. That's why, this month, a new and much-discussed musical is set to open at the New York's Palace Theatre, based on the rapper's enduring lyrics. In all the buzz and anticipation that Holler If Ya Hear Me has elicited, the reason for Tupac's lasting influence is suddenly clear: He wasn't just a rapper, he was a literary idol. It doesn't require a multi-million dollar hologram to keep all eyes on him.
Successful crossovers between hip-hop and theater are rare (with Lin Manuel-Miranda's In the Heights a happy exception), but if anyone can pull it off, it's Tupac. Pac's easy translation to theater has revealed one common thread of literary and dramatic sensibility in his own work. That has its roots at the start of his career. Before he was a rapper, he was originally a student at the Baltimore School of Performing Arts, and a die-hard Shakespeare fan to boot.
"He wrote some of the rawest stories, man. I mean, look at Romeo and Juliet. That's some serious ghetto shit. You got this guy Romeo from the Bloods who falls for Juliet, a female from the Crips, and everybody in both gangs are against them … Real tragic stuff," he told the Los Angeles Times in 1995, less than a year before his own life was taken.
Holler If Ya Hear Me is bringing that Tupac back to life. Tony-nominated director Kenny Leon, whose credits include Steel Magnolias and A Raisin in the Sun, has only praise for Tupac, claiming that the rapper belongs in the same "army of writers as August Wilson and Shakespeare even." August Wilson agrees. (Shakespeare was unavailable for comment.) When he met the musical's writer for breakfast in 2001, he gave him a simple testament to Tupac's art: "There's nothing contained in your life that's not contained in that music."
It's a hint as to why Tupac has endured. He didn't just make music, he wove philosophy and literature out of words. That legacy is even more evident in another literary name connected with the project: Saul Williams. Slam poet, rapper and wordsmith Williams, like Shakur, is involved in diverse fields. He wrote and starred in 1998's Slam, which swept Sundance and Cannes, winning multiple awards for his spoken word and publishing his own books while also holding down a career as a rap artist.
Now Williams is adding unbelievable skill and poetic feel to some of Tupac's most beloved tracks, like "California Love." Williams opens the song a cappella, and it sounds like a work of slam poetry until the beat drops. He confirms what great authors and rappers have said for decades: Tupac is a literary genius. The eponymous "Holler If Ya Hear Me," perhaps Tupac's most salient anthem of resistance, speaks of his own trauma and urges others in his community to fight back and stay strong. Decades later, it's still a potent rallying cry because it's written timelessly like the best literature.
The musical has laid bare the revolutionary spirit of the rapper — a spirit that's still doing hard social work in the real world. His mother, the subject of "Dear Mama," still does important activist work under his name at the Tupac Amaru Shakur Foundation and provides support for young artists. She also serves as producer for the show. Those politics drew one of our generations' best-selling poets to the show. Williams is obviously well acquainted with Tupac's politics as well as his literature, explaining, "We want to expose the hypocrisy of Puritanism in America, and what the American government doesn't want to tolerate about protest speech, which is what Pac was often singing about."
So Tupac isn't just successful for having catchy songs or a good flow. His poetic and compassionate nature drew Williams, and it's what drew another poet to Pac. The late Dr. Maya Angelou remembered, in a 2013 interview with George Stroumboulopoulos, the time she confronted an angry Tupac on the set of Poetic Justice, a film that used her poems. She revealed that she took aside a raging and cursing Tupac, saying, "When was the last time anyone told you how important you are? Did you know our people stood on auction blocks, were bought and sold so that you could stay alive today?" At that, Shakur broke down weeping, embracing Angelou in gratitude. After her death last week, the video of her relaying the encounter went viral — two literary giants, compassionate heroes, now gone.
With each passing year, Tupac's legacy only grows stronger, but these days it's easier than ever to see why. A lot of people call rap poetry, but only for a few does that actually hold true. Tupac didn't just make music, he made literature and stirring music out of universal ideas and ever-relevant emotional urgency. There's a reason that, 18 years gone, he's still our generation's most important rapper.