The Syrian Presidential Election Summed Up in One Devastating Cartoon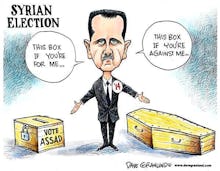 The news: If you know just one thing about the Syrian election happening right now, it should be that President Bashar al-Assad is in control. 
Image Credit: Dave Granlund 
Syrians voted Tuesday in a dramatic election suggesting that the civil-war-wrought country is a democracy. Sitting President Bashar al-Assad won 88.7 percent of the vote, parliament speaker Mohammad al-Laham said on Wednesday, securing a third term in office despite the raging civil war which grew out of protests against his rule.
A portrait of phony elections: Few Western journalists were awarded the right to cover the event, but local coverage showed Syrians waving flags and proclaiming their love for Assad. They also reported that voting was extended until midnight Tuesday because of the high turnout. 
Assad's two running mates, a businessman and a lawmaker, are relatively unknown. Reports allege that they are, "window dressing to give the election a veneer of democracy." 
Critics claim that some voters were blackmailed into voting for Assad and that government employees who refrained from voting would lose their jobs. And during voting, bombs were dropped on rebel-controlled areas. One report said 28 people died. The state government announced that 11 people died in "rebel shelling of regime-held Aleppo, where voting was taking place." Assad clearly made it difficult for the democratic election to be free and fair. 
Syria's crescendo: What started as an Arab Spring-like revolution has become a three-year civil war. The death toll has surpassed 160,000. And nearly 3 million people have sought refuge outside the country's borders in Lebanon, Jordan, Turkey and Iraq.
Obama's revamped, but laid-back foreign policy plan includes an undefined boost in American aid to "moderate" rebels in Syria. However, Assad is currently backed by Iran, Russia and volunteer militia forces from Iraq and Lebanon. Assad's regime has clearly been gaining momentum. 
With Assad claiming the presidency yet again, the opposition fighters and rebels may continue to find it hard to be hopeful about their country's future.