Why Are We Still Blaming Alcohol For the Actions of Teenage Rapists?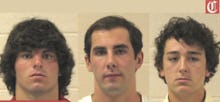 History is repeating itself in Georgia, where three warrants have been issued in a horrifying case of an alleged sexual assault at Calhoun High School.
The assault is believed to have occurred following an after-prom party. High school seniors Fields Chapman, Andrew Haynes and Avery Johnson, all 18-year-old student-athletes, have been accused of raping a fellow student at the school, leaving her injured and unconscious at Coosawattee River Resort cabin.
The case has echoes of various other high-profile rape cases involving student-athletes over the past year: The accused are star athletes on the football and baseball teams; Johnson even had a full scholarship to a nearby college lined up.
But unlike some of these past cases, police seem to be taking this investigation seriously. Indeed, after 18 days of investigation and more than 50 interviews, Gilmer County Sheriff Stacy Nicholson said his team of detectives is convinced that all three students did participate in the sexual attack. Grave charges of sexual battery — penetrating the victim with a foreign object — have been filed against them, who are currently released on bail.
Rape and sexual assault cases in educational institutes have become a big, serious challenge for authorities, culminating in the White House issuing guidelines in April intended to change the way colleges specifically combat rape on campus. The case in Calhoun allegedly is yet another, brutal example of why rape culture continues to be an institutionalized issue.
However, the school's apparently swift response to the allegations is also a hopeful sign. Unlike in other cases, school officials, students and law enforcement took this incident very seriously from the get-go — an investigation was launched immediately, the school board banned the athletes from participating in the school's graduation ceremonies last week and supporters posted online and through the #standforHER hashtag. 
This last point is perhaps especially important, as one of the biggest problems with the rape culture phenomenon continues to be the way that it minimizes the experience of the victim, in some cases actually rallying support for the perpetrators — as occurred in the aftermath of the Steubenville, Ohio, rape case last year.
"This has been a very emotional case, certainly to the community and city of Calhoun and Calhoun High School," Nicholson said at a press conference. "We've done over 50 interviews with witnesses, suspects, victims."
The three charged: (L-R) Chapman, Haynes and Johnson. Image Credit: YouTube
But still, we need to do better. Because just as authorities should be lauded for their comparably efficient investigation, so should they be held accountable for falling back into the same old rhetoric about what causes these types of assaults in the first place.
As Times Free Press columnist David Cook noted about the incident, reporters at a press conference detailing the incident focused almost all of their attention on what kind of beverages were being served at the party, not the victim or the alleged attackers. 
"Teenagers and alcohol just do not mix," Nicholson said.
By bringing alcohol into the mix, the good sheriff has inadvertently played into the tired myths about rape, Cook noted.
"When there's a murder, or homicide, or robbery, no one talks about whether the shooters were drunk or how much beer they drank," Cook wrote. "So when we liquify sexual assault, we feed into the dangerous and favorite narrative of misogynists everywhere: that drunken women are consenting, no-really-means-yes women, or that drunken women who cry rape are really just dealing with morning-after regret."
And, sadly, it's important to highlight in this case that apparently, none of the other students present at the party tried to stop the incident.