The Story Behind the Iconic 'Tank Man' Photo That Changed the World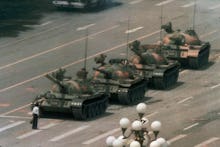 The news: Wednesday marks the 25th anniversary of the Tiananmen Square massacre, where Chinese troops uprooted pro-democracy demonstrators who had been occupying the square. Hundreds, possibly thousands of people lost their lives that day. The key symbol of the protests: An anonymous man standing in front of a procession of oncoming tanks. 
Image Credit: AP
In the picture above, taken from a balcony by Associated Press photographer Jeff Widener, a lone Chinese man blocks the line of tanks a day after the pro-democracy movement was smothered by the government's decree of martial law in Beijing. Little is publicly known of the man's identity or that of the commander of the lead tank. Little else is known of the fate of "Tank Man." Conflicting stories cite he may have been executed in the weeks following the demonstrations, or perhaps evaded the government and is still alive somewhere on the mainland.
Over the course of six weeks during the summer of 1989, pro-democracy protests spread throughout the country in protest of the communist government. On the eve of Soviet leader Mikhail Gorbachev's visit to China, dissident students took over Tienanmen Square for a sit-in and hunger strike. Many teachers, factory workers and intellectuals joined the demonstrators.
But on June 3 and 4, the Chinese military tightened its reins, violently suppressing the movement. An estimated 10,000 troops took to the streets, overwhelming civilians and firing into the crowds. Some protesters fired back with Molotov cocktails or rocks, but were quickly intercepted by Chinese forces. It is still unclear how many people died as a result of the attack. 
In the wake of the massacre, the government "initiated a propaganda effort to quell popular discontent and remove evidence of the military attack and public resistance to it," according to the Washington Post. Several photographers captures the same scene from several different angles. To this day, nobody knows the true identity of man at the center of this lonely ac of defiance.
As the anniversary neared this year, the Chinese government instigated a widespread crackdown on the discussion of the Tiananmen Square incident within the country. They have severely censored Google search and Gmail functions, almost rendering them nonfunctional, with no end to the  suppression in sight. At least 64 terms related to Tiananmen Square have been heavily censored on China's Internet, including the iconic 'tank man'.
Even though there may hardly be a trace of the historical moment in Tiananmen Square today, close to 100,000 people gathered in Hong Kong for a vigil on Wednesday. 
Image Credit: Twitter