Could This 20-Year-Old Be the New Face of Women's Tennis?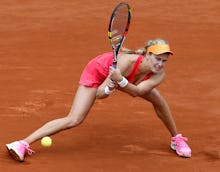 Women's tennis is boring.
It's a statement, albeit an untrue one, that's been doing the rounds for so long that it's hard to pinpoint exactly when it began.
Serena and Venus Williams have been deemed "boring" because they win too easily, because they've been around too long and, let's face it, because you never quite know what you're going to get with either of them. They are extraordinary champions, and yet their achievements are almost blighted precisely because they have been so successful.
Their peers and successors, meanwhile, have been criticized for not having enough personality, for being too nice to each other and, perhaps most importantly, because they haven't been good enough to beat Serena at her best.
That is not to disrespect those major champions who have seized hard-won victories. Francesca Schiavone, Samantha Stosur, Victoria Azarenka, Li Na and of course Maria Sharapova are no slouches. But for some reason, none of these women have completely enraptured of the tennis-watching world. They are the opposite of Serena: not consistent enough for you to put all your eggs in their basket.
But one player on the scene might be about to change all that: Eugenie Bouchard, a 20-year-old Canadian who on Thursday (9 a.m. ET, ESPN2) will be competing in her second straight Grand Slam semifinal at Roland Garros, against none other than Sharapova.
Image Credit: Miguel Medina/Getty Images
Bouchard first burst onto the scene just under two years ago, winning the girls' singles title at Wimbledon. She was already 18, a late bloomer in terms of juniors, who seemed to have the package but perhaps not the drive to make it on the senior stage. Eighteen months later, cheered on by the now infamous "Genie Army," she was competing in a Grand Slam singles semifinal at the Australian Open, giving Li Na a run for her money before Li's eventual victory.
At the time, Bouchard was quietly reflective. "I'm happy with how I did," she is quoted as saying. "I've been working hard my whole life to do this, play at Grand Slams and do well. So I'm just going to go back to the practice courts and keep working hard."
"I'm proud of how I've improved as a player," she is quoted as saying. "But I'm never satisfied with losing. I always want to go further and do better. Sometimes you have to learn."
Bouchard has been true to her word. In the third and final set of her quarterfinal against Carla Suarez Navarro, trailing 1-4, Bouchard seemed to have unravelled. But she found something just in time. Turning the match completely on its head, she won 12 points in a row to get back to 4-4, dropping just one more game to win it.
"She was amazingly aggressive," said commentator Tracy Austin on the BBC telecast. "She struggled, but then boom, she comes right back and rips a backhand up the line on the next point."
Arguably, the reason behind Bouchard's stratospheric rise into the collective consciousness of tennis fans is that at present, she straddles three worlds.
There is the Bouchard who is happy to be given cuddly toys live on camera, who likes (and is liked back by) Justin Bieber and who is still, by many accounts, not long out of juniors. Young enthusiasts want to be just like her.
There is the Bouchard who dresses up as if she's at the Oscars, a clotheshorse with a fondness for thigh-skimming dresses, who is already being molded by Nike as the successor to Sharapova, the most successful sportswoman on the planet in terms of endorsements. The world wants to watch her.
Image Credit: Karwai Tang/Getty Images
And then there is Bouchard the tennis player, a natural athlete who plays smart, sensible tennis, well within her means. She is not flashy when she doesn't need to be, but she has the capacity to turn a match when the moment calls for it. Tennis purists want to play like her.
But do we really know Eugenie Bouchard? Because the one we've seen so far says just the right thing when she has to, does as she's bidden and keeps out of trouble.
By way of example, when asked the simple question of how she likes to eat strawberries, she responded with a perfectly polished answer: "I usually just like them fresh because they are so refreshing. When I am in England I do eat them with cream, but I try to eat not too much because it's probably not the healthiest thing for an athlete."
Quite the response for a 20-year-old. Almost boring.
Which brings us full circle. What makes a tennis player one to watch? Their personality? What they look like? Or the way they play tennis?
All three elements are part of a package. But it is the last that is most important. And that is why Bouchard is worth our attention.
Image Credit: Clive Brunskill/Getty Images