Is Your Team Allowed to Have Sex at the World Cup?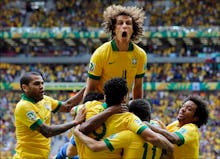 Abstinence is not an uncommon practice for athletes heading into top-flight sporting events — just ask Rocky Balboa — and major international soccer tournaments are no exception. So it's no surprise the timeworn argument over whether lovemaking compromises on-field performance is back in the headlines as the World Cup draws near. One school dating back to the ancient Greeks argues sex can sap energy, while others, among them Pele, believe satisfied players produce satisfying results. Here's how eight of the teams competing at this year's World Cup are handling it.
Bosnia-Herzegovina
No. Manager Safet Susic has issued an absolute sex ban for the World Cup debutants. "They can find another solution, they can even masturbate if they want," he said. "I am not interested what the other coaches do. This is not a holiday trip: We are there to play football at the World Cup."
Brazil
Depends. Luiz Felipe Scolari enacted a sex ban when he managed Brazil to a World Cup at South Korea/Japan 2002, but Big Phil has reversed his stance partially during his second stint with the Seleção: Players are permitted to have normal intercourse, but acrobatic sex is a no-no.
Chile
No. Coach Jorge Sampaoli has put the kibosh on all sexual activity. And no soft drinks either.
England
Maybe. Families and partners are permitted to make the trip to Brazil as long as visits happen within England's training and match schedule. Manager Roy Hodgson did ban sex, before relenting, when he coached Switzerland at the 1994 World Cup. England's policy in 2010 was even more draconian — and dystopian — when then-coach Fabio Capello promised to enforce a sex ban by monitoring the players through their hotel televisions.
France
Yes. Didier Deschamps, manager of Les Bleus, says that sex is allowed, but "it all depends on where, how and how much" — no small concern, given the brothel 500 meters from the team's hotel in Ribeirao Prato. "I don't want them to be cut off from the outside world," Deschamps says.
Mexico
No. "If a player can't go one month or 20 days without having sexual relations, then they are not prepared to be a professional player," manager Miguel Herrera told the Mexican newspaper Reforma. Strong words, but fair play for a team that's weathered two prostitution scandals over the past four years, resulting in more than a dozen suspensions and fines.
Nigeria
Maybe. It's unclear, but Super Eagles coach Stephen Keshi has been advised by former team captain and manager Christian Chukwu to keep the players away from temptation. "The World Cup is not for rookies or disco dancers, it is for senior boys that are ready to stake their careers for the passion and love they have for the round leather game," Keshi said, "In my days as a player, even as a coach, I made it a point of duty to stay away from women, because sex has a lot of spiritual things attached to it. So if Stephen Keshi and his crew can keep close eyes on these players by making sure that they keep away from sex totally, they will do very well."
United States
Yes. Jurgen Klinsmann says families are permitted and sex is allowed. "I think we are very casual in the way we approach things," the U.S. national team coach said this week. "Every team and every country handles that differently, based on their culture. So I respect the Mexican approach because it's more their culture at that moment. I think we have a group of guys together and an environment together that is very open, very casual. But once we go on the field for training and also for the games, we are very serious and down to business."