17 Amazing Theater Cities That Aren't London or New York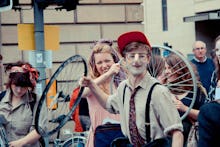 Most of the winning shows at the Tony Awards on Friday night will come out of year-round theater meccas London and New York. But have you ever wondered whether there's good theater beyond Broadway and the West End? (Hint: There is.)
Below is a list (in no particular order) of the world's best destinations to see live performances ranging from Sophocles and Samuel Beckett to local artists who haven't made it big yet:
1. Athens, Greece
Athens may be the birthplace of Western theater as we know it, from set design to costuming and plot lines, but there's nothing about its scene that's stuck in the past. There are over 148 dedicated theater stages, which means it has more than any other city in the world. And many of those stages are old amphitheatres, allowing the convergence of Greece's past and present to play out on stage before modern audiences. 
The Odeon of Herodes Atticus, for example, is home to the Athens & Epidaurus Festival each year from May to October, hosting ancient Greek dramas and comedies. The open-air Lycabettus Theatre, set atop a hill overlooking the Parthenon, helps to pitch in for the festival and is a constant home to concerts for artists like Joan Baez, Radiohead and Moby.
Plus, there's always the grand National Theatre of Greece for performances of King Lear and a brand-new National Library and Opera House currently under construction. And for those who prefer local theater, the Dora Stratou Dance Theatre seats 800 for performances of traditional Greek dance. 
2. Edinburgh, Scotland
The stunning Scottish city of Edinburgh is home to the Edinburgh Festival Fringe, the largest arts festival in the world. Featuring music, dance and more, it will move into town for the month of August (August 1-25) and will showcase nearly 50,000 performances and over 3,000 shows in 299 venues across the city.
Last year, 2 million tickets were sold for patrons looking to see theater, comedy, dance, physical theater, cabaret, children's shows, musicals, operas, music, spoken word, exhibitions and events. It's an unjuried festival, too, which means that cutting-edge experimental theater of all shapes and sizes can participate. Rosencrantz and Guildenstern Are Dead premiered here, too.  
3. Minneapolis, Minn.
Minneapolis has more theater seats per capita than any other city in the United States after New York City. The Hennepin Theatre Trust and the Guthrie Theater are mainstays of the scene, but the Cowles Center for Dance and the Performing Arts, the Brave New Workshop for improv and the New Century Theatre are leading the new guard in productions ranging from touring Broadway shows like Bloody Bloody Andrew Jackson and countless swarms of smaller grassroots performances.
The tight-knit community of performers also lends itself to exciting genre cross-pollination — dance and art installation, for example. And the presence the Playwrights' Center helps ensure there's never a shortage of writers and new material. 
4. Toronto, Canada
Toronto's theater history runs deep: It's the largest English-speaking theater district outside of London and New York City, and its Royal Alexandra Theatre is the oldest continuously operating legitimate theater in North America.
Toronto is also boasts its bustling Entertainment District, which is a regular stop along national and international Broadway tours, offering tickets to hot shows like Book of Mormon for a fraction of the price. And the local theater scene, led by storied organizations like the Curtain Call Players and boosted every year by the Toronto Fringe Festival gives deserved attention to smaller experimental performances. 
5. Tokyo, Japan
Tokyo's theater scene is probably best known for the extravagant makeup and beauty of Kabuki theatre, which finds its home at the grand Kabukiza and other legendary theaters. But the theater scene in Tokyo stretches beyond just Kabuki and, without a centralized theater district, performances are scattered far across the city.
Shimokitazawa is home to Tokyo's underground theater scene in small fringe theaters, while Hatsudai is the place to find highbrow opera and Shakespeare. The Carrot Tower in Sangenjaya and Western Tokyo districts like Koenji host dance, comedy, musicals and more. Even the rundown Ikebukuro is home to Festival Tokyo among other fringe venues like Toshima-ku. 
And for those looking for traditional but not Kabuki, there are a few remaining Bunraku theaters in Tokyo performing the traditional Osakan art of Japanese puppetry.
6. Niagara-on-the-Lake, Canada
Somewhere in Ontario's wine country, the Shaw Festival has taken hold each year since Her Majesty Queen Elizabeth II christened its opening in 1962, bringing theater to Canada's Niagara-on-the-Lake. The festival focuses specifically on adapting and reviving the works of George Bernard Shaw, one of the great naturalist playwrights and famous for works such as Man and Superman, Candida and Pygmalion, among others.
The company works in four theaters and is well-known for innovative set design and nuanced ensemble acting. In the off-season, travelers find respite from long days of vineyard touring at a spa or back at one of the quaint inns around town.
7. Bogota, Colombia
While Colombia is still trying to shed its bad boy image as a beautiful but dangerous country, the theater scene in its capital city is taking off. The Festival Iberoamericano de Teatro de Bogota, one of the biggest theater festivals in the world, attracts millions of visitors from countries far and wide to witness over 100 international theatre groups, with over 170 from Colombia alone, and more than 800 performances in the heart of Colombia.
The festival began in 1998 and is held biannually in dedicated venues and even city parks, hoping to promote Latin American artists involved in the performing arts. Artists bring bright colors and vibrant parades and performances to the streets of Bogota, which are counterbalanced with classical works.
8. Melbourne, Australia
Melbourne is the unofficial theater capital of Australia, best known for its small performances and fringe scene, thanks to rents significantly cheaper than Sydney. Top-line performances in Victoria's capital are also abundant in the Art Deco Theatre District or the Royal Botanical Gardens, which stages outdoor renditions of Shakespeare.
Or in the more contemporary Arts Precinct, under a latticed spire, the Arts Centre complex of venues leads the charge as modern Melbourne's home for the performing arts. Melbourne residents can be proud of their indie theater productions too. 
9. Buenos Aires, Argentina
The pulsing Latin American city takes its theater almost as seriously as its beef and nightlife. The glory days of the Teatro Colon, a gorgeous 19th century theater located in the center of town and considered to have some of the best acoustics in the world, add a touch of nostalgia and opulence to the scene.
Avenida Corrientes is considered the Broadway of Buenos Aires and is where Evita Peron (of the eponymous play) got her acting start. Contemporary avant-garde theater also has its place in the Buenos Aires theater ecosystem with interactive and immersive theater experiences like the Big Bang Sensorial and Usted Esta Aqui. And for a distinctly porteno treat, there's always live tango on the streets of La Boca too. 
10. Adelaide, Australia
Inspired by the Edinburgh Festival Fringe, the Southern Australian capital, Adelaide, started its own. The Adelaide Fringe runs from mid-February into March and is now the largest annual arts festival in the Southern Hemisphere, celebrating independent artists and contemporary work without in-advance curation.
Performances in Adelaide range from cabaret to comedy, circus, dance, puppetry, theater and more as part of the Opening Night Fringe Parade, the Adelaide Fringe Street Theatre Festival and Spirit Festival that take over the city.
Plus the Spirit Festival focuses specifically on showcasing indigenous art. If you can't wait until the new year, the OzAsia Festival every September also has its eye toward multicultural performance, featuring theater, dance, music and more from artists who identify with Australian and Asian heritage. 
11. Houston, Texas
Coming in at 12,000 seats concentrated on 17 blocks of Houston, the city's Theater District is second only to New York City for density of theater offerings. There are permanent professional opera, ballet, music and theater companies in residence alongside nine performing arts organizations and six performance halls mooring Houston's theater scene.
Groups like Theatre Under the Stars and the Tony Award-winning Alley Theatre have garnered a lot of attention over the years, but there is also a slew of professional, regional and community theater companies like the Ensemble Theatre, Talento Bilingue de Houston and the Theatre Suburbia, all bringing multicultural and distinctly Texan experiences to the stage. 
12. Subotica, Serbia
Just north of the Danube in the Vojvodina province of Serbia, the small town of Subotica welcomes a competitive and highly selective festival dedicated to featuring the world's best children's and puppet theater each September. The Subotica International Festival of Children's Theatres has grown into a seven-day festival that has, in the past 20 years, embraced performances from over 500 dramatic ensembles from 44 countries.
More than anything, the festival has served as an incredible and indispensable archive for regional children's theater, anthologizing the evolving history of the genre into the modern era. 
13. Shepherdstown, W. Va.
Shepherdstown, W. Va., is one of the country's oldest cities, but since 1991, the annual Contemporary American Theater Festival at Shepherd University, aims to highlight the newest of the new in American theater. Specifically, only premieres and second or third productions stage at the festival, creating the perfect incubator for fledgling plays from neophyte playwrights and veterans like Joyce Carol Oates and Sam Shepard.
And it's not about drawing crowds: the 11,000 tickets sold last year were more than enough for the small Shenandoah Valley town. It's about launching innovative theater.
14. Charleston, S.C.
Charleston's theater scene is on the rise. Several festivals such as the Spoleto Festival USA, which fills South Carolina's theaters, churches and outdoor spaces to stage plays as varied as Hosokawa's Matsukaze to Arthur Miller's The American Clock and has attracted big-name talent like Jean-Yves Thibaudet, Renee Fleming and Yo-Yo Ma, each spring help cement theater's place in the hearts of Charlestonians and visitors alike. For all of the comedians out there, the Theatre 99 festival features sketch, improv and stand-up all over the Holy City every winter.
The Dock Street Theater, one of America's oldest theatres, anchors the scene in the beautiful Southern city and stages the classics like A Christmas Carol and Charlotte's Web while the College of Charleston feeds fresh young talent into its three campus theaters. 
15. Chicago
Chicago is no doubt the best-known American theater city outside of New York — and it's entirely deserving of its reputation. The sheer volume of theater troupes is huge and varied. There's theater in the Loop, which is dotted with hallowed venues like the Goodman and the Chicago theaters, staging Broadway shows in the heart of the Windy City.
Then there's always the legendary Second City leading the comedy and improv scene with impressive alums like Tina Fey, Steve Carell and Stephen Colbert, among others. 
16. Williamstown, Mass.
Tucked away in Massachusetts' Berkshires, quiet Williamstown comes to life each year as the Williamstown Theatre Festival takes up residency at Williams College. Accomplished actors, designers, directors and playwrights flock there every summer for the free theater, late-night cabarets, readings, workshops and educational programs.
The festival is dedicated to talented artists trying their hands at revamping international classics like Chekhov's The Seagull and Pirandello's Six Characters in Search of an Author, allowing it to become a fertile training ground for young actors looking to get their starts on bigger stages. Prominent alumni of the festival include Benjamin McKenzie, Christopher Reeve and Kate Hudson. 
17. Grahamstown, South Africa
Grahamstown first made waves for its politics when artists staged plays protesting apartheid free of censorship. Now it's home to the biggest annual celebration of the arts on the African continent, featuring a Main and a Fringe program of theater, drama, dance, opera, music, street theater and more.
The Grahamstown Arts Festival, held in a small Victorian university town, runs every summer at the end of June and into early July. 
Correction: June 9, 2014, 2:25 p.m. An earlier version of this article incorrectly stated that the Edinburgh International Festival is the largest arts festival in the world. Rather, the Edinburgh Fringe Festival is the largest arts festival in the world.