How Melissa McCarthy Turned a Maddening Slight Into an Inspiring Fashion Line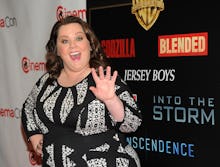 Emmy Award winner Melissa McCarthy isn't one to accept the fashion status quo — but her love for couture isn't the only reason the actress has announced she is starting her own plus-size clothing line. In fact, in a recent interview, the popular comedian came clean about a much more frustrating reason why she wants to expand options for curvy women: It happened to her.
Specifically, McCarthy told Redbook that two years ago, every single designer she commissioned to create an Oscar dress for her turned her down.
"When I go shopping, most of the time I'm disappointed," McCarthy said in the July issue of the magazine. "Two Oscars ago, I couldn't find anybody to do a dress for me. I asked five or six designers — very high-level ones who make lots of dresses for people — and they all said no."
Instead, McCarthy walked the 2012 red carpet in a dress by Marina Rinaldi, a designer available at high-end deparment stores. While she looked great in the frock, the fact that designeers were unwilling or (even more implausable) unable to design a dress for the A-list star says a lot about the stigma still attached to plus-sized fashion.
One would think that her Best Supporting Actress nomination for Bridesmaids would lead to designers lining up to attach their names to her look. But that was clearly not the case. 
Melissa McCarthy's Oscars 2012 dress. Image Credit: Getty
These types of experiences, shared by millions of Americans far less famous, have led McCarthy to launch a plus-size clothing line, teaming up with couturier Daniella Pearl, who also co-designed her Emmy Award gown. It's not like McCarthy doesn't know what she's doing — before her acting career took off, McCarthy studied fashion design at Southern Illinois University.
"Trying to find stuff that's still fashion forward in my size is damn near impossible," the actress had earlier told Hollywood Reporter. "It's either for like a 98-year-old woman or a 14-year-old hooker, and there is nothing in the middle." 
And it's not just the clothes. The Heat star has dealt with her fair share of criticism over her body size in the past. ELLE magazine was criticized for covering up her body on their cover to the extent that it became a full-blown "Jacketgate" controversy. (McCarthy has claimed that she liked the cover, and indeed chose the wardrobe herself.)
Worse, New York Observer film critic Rex Reed wrote an outrageous review of 2013's Identity Thief calling McCarthy "tractor-sized," a "female hippo" and "a gimmick comedian who has devoted her short career to being obese and obnoxious with equal success." As outrage mounted, Reed stood by his words and refused to apologize.  
Image Credit: ELLE
Melissa later told the New York Times that if this type of "fat-shaming" had occurred when she was 20, "it may have crushed me." Strong and secure in her success now, McCarthy noted she's in a happy place, but as a mother raising two young daughters in "a strange epidemic of body image and body dysmorphia," she realizes that articles like that "just add to all those younger girls, that are not in a place in their life where they can say, 'That doesn't reflect on me.' It means you don't actually look good enough."
It's heartening to see McCarthy attempting to make a difference for women who still feel left out by mainstream fashion, whether they're looking for a little black dress or a red carpet gown.
More companies are following this trend of making clothes more adaptable to all body sizes, like Swimsuits for All, which has come up with a bikini line for plus size women. Beyoncé's line House of Dereon also has Dereon Curvelicious, a plus-size collection. With more and more plus-size models gracing magazine covers, perhaps we're approaching a day when women will no longer be forced to go begging to be treated as equals, regardless of their dress size.