Why We Shouldn't Let Boko Haram Overshadow Nigeria's LGBT Crisis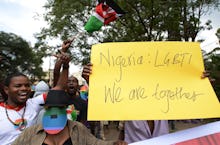 Search for news from Nigeria and the results are most likely to be dominated by coverage of Boko Haram and, more specifically, the group's kidnapping of schoolgirls from Chibok in the northeastern Borno state.
And just today, the militant group murdered 200 civilians in northeastern Nigeria, and despite being warned about the attack, the Nigerian military failed to intervene, shining a light once more on President Goodluck Jonathan's failure to address the group's insurgency.
With Boko Haram and Nigeria's troubles with terrorism taking center stage in the international press and media, it's easy to forget that up until April the story making a splash abroad was about LGBT rights. Back in January, President Jonathan signed the Same Sex Marriage Prohibition Act, an anti-gay law that made same-sex relationships punishable by up to 14 years in prison. The law has spurred a frightening witch hunt for LGBT Nigerians, leading to many arrests and assaults.
While not drawing the same level of international outrage as Russia's ban on so-called "gay propaganda," the Nigerian law did draw condemnation from abroad, and it sparked a dialogue that is now on pause in the face of Boko Haram's unrelenting terrorist attacks.
But it's the one issue where international pressure could potentially have an impact in repealing the law, particularly from Nigerians in the diaspora. After all, President Jonathan has proven to be sensitive to international pressure. There's no better example than the story of the kidnapped schoolgirls. It wasn't until international attention was paid to Chibok did President Jonathan publicly address the situation. He was silent for over two weeks before the story made headlines around the world, just as he has been silent about Boko Haram's other atrocities. Similarly, while he has signed the anti-gay law, he has not made a statement about it. 
But it's not just the condemnations of world leaders that matters here; it is also the international mobilization that might make a huge impact. Goodluck Jonathan is not Vladimir Putin or Yoweri Musevini in Uganda. He has working relationships with the West, and he is seen as a friend and ally. In short: He has more to lose from international outrage.
To illustrate that this was largely a political move, the anti-gay law, for a time, garnered support for the president across the country, even in the north, where he has little support otherwise. The sad truth is that the majority of Nigerians fully back the law, and it's pretty clear that the decision to pass the law was made with the 2015 presidential election in mind. Many people are not aware that Nigeria is the second most religious country in the world, right behind Ghana. Religious dogma is heavy in Nigeria. This law is being used as a buttress to uphold the country's supposed religious and moral values.
The law was first passed by the Nigerian Senate back in 2011, but it remained unsigned and forgotten until 2014, conveniently around the time that President Jonathan was gearing up for his reelection campaign. But whatever political gain and support he gained from signing the bill have been squandered as the furor over his mishandling of the Boko Haram situation continues to mount.
Even though the current international spotlight on Nigeria is not trained on LGBT rights, the struggle for equality is only becoming more difficult in the country. Just last week, 26 lesbians were arrested for violating the draconian law.
According to local activists and health advocates, the law will further stigmatize the country's LGBT community and force them to go underground. John Adeniyi, who works for the International Center for Advocacy on Rights to Health, told Mother Jones that he is no longer able to return to a village called Gishiri, where mob attacks have led to the expulsion of residents. The residents cannot return home, because their neighbors vowed to kill them, and they have since lost their jobs, now that their sexual orientations are public knowledge.
The law not only helps drive members of a vulnerable community underground, it also places health professionals, like Adeniyi, at risk since the very nature of their work is now a federal crime. The law goes even as far as criminalizing knowing someone who is gay and not reporting it to the authorities. This has meant a big drop in HIV/AIDS treatment and a big dilemma for medical professionals. Especially for a country that has the second highest HIV rate in the world, this law is bad news.
Of course, President Jonathan's bumbling efforts in response to Boko Haram doesn't change much for the persecution of marginalized LGBT Nigerians. But it is, perhaps, a more worthy cause for international solidarity. After all, this doesn't involve a possible military intervention, and the spotlight could force President Jonathan to answer the questions that he has been avoiding. He has not made any statements about LGBT rights, despite signing the law, perhaps making it more clear that this is a political move. The law must be repealed, and these attacks are very real. As long as this law stays on the books, these human rights abuses will only occur more brazenly and more unabated.
Until then, many LGBT Nigerians are left with very few options, including managing to escape via asylum to other countries. But the road to asylum is long and difficult, and it is certainly not a sustainable solution. 
The best solution will only come through placing pressure where it counts, and that starts with letting President Jonathan know that the world is watching.