The Senate Just Made a Historic Choice for UN Ambassador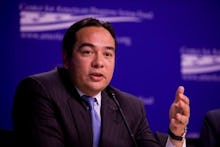 The news: They say that good things come to those who wait, and Native Americans have waited literally forever to have one of their own named a United States ambassador.
That changed Tuesday, when the Senate voted 52-42 to appoint Keith Harper a representative to the United Nations Human Rights Council. The former attorney was nominated by President Barack Obama in June 2013, despite strong opposition from Republicans.
Image Credit: Indian Country Today Media Network
He is now the first indigenous American to hold a U.S. ambassadorship.
Controversy: Harper's appointment drew praise from Senate Committee on Indian Affairs Chairman John Tester (D-Mont.), who said in a statement, "I'm pleased that my colleagues have voted to appoint another historic first for Indian Country. As a longtime advocate for the civil rights of Native Americans, Keith will be a great Ambassador for our country."
But Harper's past has come under fire from Senate Republicans. As a member of the Cherokee Nation, he helped represent more than 500,000 American Indians in a class action lawsuit against the federal government, Cobell v. Salazar, and secured $1.5 billion in tribal compensation for the United States' mismanagement of revenue from Native-owned mines and wells.
Following the lawsuit, Sen. John McCain (R-Ariz.) accused him of taking "an inappropriately large cut of the settlement," while Indian Country Today Media Network reports that Harper "[bullying]" other (often Native) attorneys "was common [practice] during the settlement proceedings."
"People like Mr. Harper can't be a party or complicit with … attempting to harass Native Americans for exercising their rights," McCain said, "and then expect to obtain the Senate's imprimatur to serve as our nation's ambassador on human rights."
But nevertheless, "obtain the Senate's imprimatur" he did. He is now poised to serve on arguably the globe's most prominent international body dedicated to "promoting and protecting human rights around the world."
Emerging patterns? Controversies aside, Harper's work has garnered support from many "powerful Native leaders and lobbyists," who applaud his dedication to "[helping] the Native American Church, tribes with treaty claims, impoverished tribes seeking federal recognition, tribes enforcing water rights and … protecting tribal natural resources."
His appointment also comes less than a month after the Senate unanimously voted Diane Humetewa onto the U.S. District Court for the Court of Arizona, making her the first-ever Native American female federal judge.
With Natives constituting 5.2 million of the U.S. population, their noticeable absence from American electoral politics remains a troubling point of contention. Observers hope these recent appointments will prompt broader representation across the political sphere, ideally heightening visibility of issues affecting indigenous communities.
"Indian Country is full of qualified, talented people who are able and willing to serve," reads a statement from the National Congress of American Indians, following Harper's appointment. "We eagerly anticipate many more nominations of Native people to important offices."