What The Media Is Getting Wrong About Simona Halep's Inspiring Breakthrough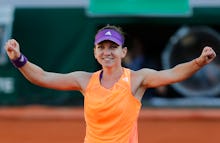 One of the best stories in women's tennis is making all the wrong headlines.
Simona Halep's unlikely run to the French Open final would have been unthinkable a year ago, when she lost in the first round at Roland Garros to fall to No. 58 in the world. 
Since then, the 22-year-old Romanian has won 64 of 77 singles matches, seven titles and the WTA's Most Improved Player award, cracking the top five of the women's rankings. Previously just a blip on the tennis radar, Halep can earn her first Grand Slam championship with a victory over Maria Sharapova in Saturday's French Open final (NBC, 9 a.m. ET). Win or lose, a career-high ranking of No. 3 awaits.
Yet it seems like no one wants to talk about any of that.
At the age of 17, when most girls dream of being prom queen, Halep dreamed of being a champion. She was good — good enough to win the French Open girls' title in 2008 — but she wanted to be better. As a result, she made the decision to undergo elective breast reduction surgery in a bid to boost her career. Her condition had made playing tennis, something she dedicated her life to, awkward and uncomfortable. "I would have gone for surgery even if I hadn't been a sportswoman," she said at the time.
Image Credit: Pierre Verdy/Getty Images
Halep is not naturally a headline-grabber. She doesn't shriek when she hits, nor does she panic when things aren't going her way. She's not demonstrative, and generally goes about her tennis with a calmness and serenity that's rarely seen on the professional circuit. Despite the winning she's done, it's this demeanor that's caused her go virtually unnoticed — except for the very thing she'd like to put behind her.
Buoyed by her newfound confidence, Halep made the quarterfinals of a Grand Slam for the first time at the Australian Open in January. Following her fourth-round win, the second question at the post-match press conference asked if she felt any pressure as "the only unseeded player left in the fourth round." (She was seeded No. 11.) Later, a reporter asked if the decision to have the surgery has played any part in her success.
Halep, in fragmented English, replied: "Now if I have to do again for tennis, I would do, yeah."
"What about outside the tennis?"
Halep, befuddled, laughed off the question — which the journalist repeated — and declined further comment.
Image Credit: AP
Following Wednesday's quarterfinal win in Paris against Russia's Svetlana Kuznetsova, the questions dogged her again.
"It seems to me that the more matches you win, the more people find out about the operation. Does that make you uncomfortable?"
Halep, in improved English she attributes to reading Harry Potter novels, now offered: "Sorry, but I don't want to speak about this ... It was a long time ago. About tennis I will speak with pleasure, but with that problem, it's my personal thing."
The fixation of the press on Halep's surgery has not gone unnoticed on social media, where a vocal contingent has called for a refocus on what she's done on the court.
Halep's on-court achievements over the past year offer more than enough fodder for journalists looking to learn more about her. After her breakthrough 2013 season, she hired Belgian Wim Fisette, the former coach of four-time major champion Kim Clijsters, and countrywoman Virginia Ruzici as her manager. In a sport where men and women are constantly compared — in the number of sets they play in Grand Slams, the number of fans they draw in, and yes, the number written on their paychecks — Halep's situation is incomparable.
With a 6-2, 7-6 win over Germany's Andrea Petkovic in Thursday's semifinals, Halep became the first Romanian in 34 years to advance to a Grand Slam singles final — and the first woman in seven years to reach the French Open final without dropping a set. She's done all she can to make the focus about her tennis, and now it's up to the media to do the same.
"Let's hope she will win a Grand Slam and then they will start talking about that instead," Fisette said.
On Saturday against Sharapova, Halep will have her first chance.
Image Credit: AP