An Iranian Artist Is Beautifying Tehran With Surreal Street Art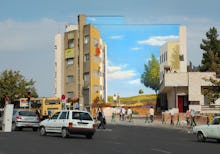 A child rides a bicycle down the side of a building. A man looks out the window of an apartment building with a strangely folded façade. Cars and motorcycles fly in the sky, high above the buildings and people below. These are just some of the surreal scenes that Iranian street artist Mehdi Ghadyanloo has painted onto the sides of buildings in Tehran. 
Like dream sequences, Ghadyanloo's murals tell a fictional "endless story." While some of his images resemble the work of Belgian surrealist René Magritte, they come from a very different context. 
In the '70s, the Iranian government used visual imagery to reach Tehran's largely illiterate urban poor. After the 1979 Revolution and during the Iran-Iraq war from 1980-1988, many murals depicting the casualties of war were used as government propaganda. Faces of the dead stared out at Iranians walking down the street in an attempt to instill them with a sense of solidarity and nationalism. These "Walls of Martyrdom" have been well-documented, though many were taken down or covered over in the 2000s, after the war ended and Iranians called for more benign imagery.
Unsanctioned graffiti is illegal in Iran, though Ghadyanloo's work is sanctioned — and even supported — by the municipality. In Tehran, many buildings have only one decorated façade, while the others are left untouched, effectively creating blank canvases for muralists. "I think the municipality really felt the need to bring some cohesion or at least color to the often confused and smog-smeared architectural face of the city," Ghadyanloo said in an interview with Young Persian Artists.
Other Iranian street artists, like A1one and the brothers known as ICY and SOT (now living in New York City), bring color and whimsy to half-demolished buildings around Tehran. Their work often has political overtones — sometimes bordering on rebellion — and is influenced by western street artists like Banksy, known for his stencils that criticize war and oppression.
Ghadyanloo's murals don't have an overt political message. He's more concerned with beautifying Tehran through his whimsical images, which have garnered countless fans in Iran and around the world. He teaches a course on mural art at Soodeh University and is preparing an exhibition at Galleri Geo in Bergen, Norway. His murals act like optical illusions, almost making the viewer believe they're really looking at flying cars and other physical impossibilities.
According to Ghadyanloo, the biggest obstacle facing Iranian artists today is the terrible economy. He told the Huffington Post, "The economy in visual art and painting is a little better than it was eight years ago during the [Mahmoud] Ahmadinejad presidency, but it all depends on economic boycotts against Iranian nuclear enrichment."
Still, economic and political hardships have not stopped Iranian artists. In fact, the Musée d'Art Moderne de la Ville de Paris is currently showing Unedited History, an exhibition of over 50 years worth of Iranian art, from 1960 to the present. "It seems that most of the time, the war and the revolution were like a blind spot in our art history," co-curator Morad Montazemi told Euronews. "That's what we wanted to illustrate, despite the violence and the problems, it was important to show these works, because they allows people to change their thinking about contemporary art in Iran."
Like the artists who came before him, Ghadyanloo is shining a spotlight on contemporary Iran, brightening one wall at a time.
Image Credit (all): Mehdi Ghadyanloo