What the Beaches of Normandy Look Like, Then and Now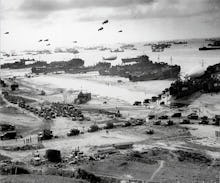 Seventy years ago today, on June 6, 1944, the largest seaborne invasion in human history rocked Normandy, France. Over 156,000 Allied troops slammed some 50,350 German defenders along one of the most heavily fortified positions ever constructed. While the Allies failed to achieve their objectives on day one, taking 12,000 casualties including 4,414 confirmed dead, the beachhead they established became the corridor Allied troops used to defeat Nazi forces on the Western Front.
CNN reported "As of last year, more than 1.7 million Americans who served during World War II were still alive. That number is dwindling rapidly." Veteran Joe Steimel, in his 90s, sums it up thusly: "Hon, I'm not getting any younger."
Here's the battlefield that was, and the beach that is, as a tribute to the American veterans who along with their Allied comrades liberated Europe from the Nazis.
1. June, 1944: U.S. troops wait to leave Weyland for Operation Overlord.
2. May, 1944: Ammunition stored in the town of Moreton-in-Marsh before D-Day.
3. June, 1944: American craft and personnel at Omaha Beach, during the first stages of the Allied invasion of Europe.
4. June, 6, 1944: Royal Marine Commandos (Headquarters, 4th Special Service) make their way onshore.
5. June, 6, 1944: 3rd Canadian Infantry Division troops land at Juno Beach, where 340 Canadian soldiers died.
6. 1944: A French armored column liberates Sainte-Mère-Église.
7. June, 6, 1944: A Canadian soldier directs traffic in Bernières-sur-Mer, near the landing site of 14,000 Canadian troops at Juno Beach.
8. July 1944: U.S. troops drive through the ruins of Saint-Lo.
9. June 1944: Nazi forces held prisoner by the British 2nd Army on Juno Beach.
For more then-and-now photos of World War 2 and the Allied invasion of Normandy, check out this retrospective at NBC News. If you'd like to spend part of today learning about World War II, here are 10 ways to learn more about America's biggest war. A heartwarming video of a Delta agent serenading a large group of World War II veterans boarding a plane to Paris is here. And for a perspective-challenging critical read on the context surrounding the American entry into World War II, pacifist and theology professor Ted Grimsrund has a thought-provoking piece here.
As for us civilians reflecting on history today, all we can do remember and praise the incredible sacrifice endured by our forefathers — and perhaps imagine from these photos how devastating the conflict they fought in would look today. Let's hope it never comes to this again.
An earlier version of this article did not cite CNN by name and did not include quotes around the phrase "As of last year, more than 1.7 million Americans who served during World War II were still alive. That number is dwindling rapidly." The story has been updated to fully attribute CNN's language.