Mic Check – D-Day, How the Taliban Got Its Groove Back, and Young Adult Literature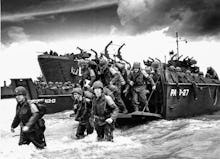 You're reading the new edition of Mic Check, PolicyMic's daily guide to the most important news and ideas right now.
THE AGENDA 
The 70th anniversary of D-Day: On June 6, 1944, 160,000 Allied troops landed on the beaches of Normandy in the coordinated invasion of occupied France known as D-Day. It was the largest seaborne invasion in history, with more than 5,000 ships and 13,000 aircraft, and it turned the tide of World War II against Nazi Germany. 
GM probe cites "incompetence" in recall scandal: An internal investigation by America's largest automaker found "a pattern of incompetence and neglect" in its decade-long failure to recall millions of defective small cars, but concluded that there was no deliberate cover-up. GM CEO Mary Barra said 15 employees had been dismissed, most of whom were in senior and executive roles, and five others had been disciplined. The recall delay has been linked to 13 deaths and 47 crashes.
MATTERS OF DEBATE
Children on the run: The rising influx of young unauthorized immigrants crossing the border with or without parents has become a humanitarian crisis, writes the New York Times editorial board: "They are fleeing for their lives. They may know nothing about perceived shifts in deportation policies or programs like the one deferring deportations for young immigrants, for which none of them would qualify anyway. But they do know that they face great danger by staying home."
MARVELS
Procrastination isn't just bad for your work ethic, it's also terrible for your health. [PolicyMic]
Editor's Note: Feb. 24, 2015
An earlier version of this article failed to link or cite a passage from the Economic Times in accordance with Mic editorial standards. The article has been updated to properly attribute the language to the Economic Times.