For These Small Teams, Playing at the World Cup Isn't Just About Soccer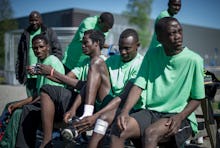 The 32 national teams competing at the FIFA World Cup, which kicks off Thursday, are survivors of a qualifying process that brought together 207 teams across six continents from June 2011 through November 2013. It's at the heart of the tournament's global appeal: Any team, if good enough, can play its way onto the sport's grandest stage.
But that's not entirely true, of course. More than a dozen ethnic teams go unrecognized by FIFA, the main governing body of international soccer, making their qualification for a World Cup impossible.
Fortunately for fans of underdogs, these small, largely unrecognized states, such as Darfur, Kurdistan and Tamil Eelam, are right now playing in the largest tournament for non-FIFA teams organized in history, the ConIFA (Confederation of Independent Football) World Cup.
Taking place in Oestertund, Sweden, a record turnout of 12 teams have gathered for the tournament, where the semifinals were played Friday ahead of Sunday's final.
Fresh off a win over Kurdistan on penalties, the team from Ellan Vannin — the Manx-language name for the Isle of Man — won 4-1 over Arameans Suryoye, a squad made up of a group of persecuted, Aramaic-speaking people from the Mesopotamia region.
Image Credit: Jonathan Nackstrand/AFP/Getty
Representing the Lega Nord (Northern League) Italian political party, Padania was one of the favorites to win the tournament after winning the 2008, '09 and '10 VIVA World Cup titles, another non-FIFA tournament with a similar but smaller structure. But despite the social media support of Italian soccer star Mario Balotelli — whose brother Enoch Barwuah plays on the team — Padania fell in the quarterfinals to the French County of Nice, 2-1.
Nice, which belonged to the Piedmontese-Sardinian state until 1860, is trying to preserve the Nicard language, a dialect of Occitan. They won 3-0 in the other semifinal over South Ossetia, a team from the breakaway Georgian republic, and will meet Ellan Vannin on Sunday.
Beyond vying for a trophy, though, some teams are playing primarily for recognition.
"Football helps us ... we get to tell people about the situation in our camps," Darfur United goalkeeper Ismail Gamaradin told AFP. "Otherwise nobody hears about us." Gamaradin, who had been training with his team of Sudanese refugees in Chad prior to the tournament, said that the United Nations is making his teammates return to Darfur next year.
Despite losing its two group games 20-0 and 19-0 to Padania and South Ossetia, respectively, the Darfur team — whose kits were donated by former NBA star Tracy McGrady — is hoping its participation brings more attention to the crisis in Sudan, which has seen media coverage lapse recently.
Another squad with a similar motivation is the Tamil Eelan team, which is comprised of players from Europe and North America, many of whom had never played together before arriving in Sweden. All of them, though, are trying to raise awareness about the persecutions and alleged massacres that the Tamil minority suffered during the Sri Lanka Civil War, which lasted from 1983 until 2009.
"This is one way to show we're a nation and that we're stronger than ever," said Umaesh Sundaralingam, a 21-year-old Canadian student, who as of this month, is a World Cup athlete.
Image Credit: Jonathan Nackstrand/AFP/Getty