Watch a Political Feud Turn Into a Massive Sword Battle at One of India's Holiest Sites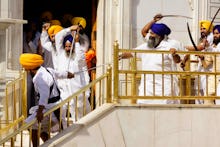 The news: A sword fight broke out Friday at the Golden Temple in Amritsar in northern India during a ceremony commemorating the 30th anniversary of a bloody Indian military raid on the site, the holiest location in Sikhism. Local media reports that members of a hard-line Sikh group, Shiromani Akali Dal, clashed with members of Sikhism's top religious body, Shiromani Gurudwara Prabandhak Committee (SGPC). The sword fight left at least 10 people injured, including a police head constable, as the rival groups hacked at each other in an incident that lasted about two hours.
The trouble began when Shiromani Akali Dal chief Simranjit Singh Mann, a separatist leader seeking to form a breakaway Sikh state named Khalistan, demanded to be the first to address the audience from the rostrum at Akal Takht, a part of the Golden Temple complex. He was apparently then refused by SGPC officials. 
From IndianExpress.com:
"The Sikh radicals ... caught hold of and thrashed the SGPC man who had denied the public address system to Mann. His turban fell off in the melee. Scores of SGPC task force men reached there in no time and rescued their colleague."Soon after, the radicals barged into the Akal Takht brandishing swords. A violent clash between them and the SGPC task force ensued with both groups attacking each other with swords and sticks. The radicals were then chased out from the Akal Takht. Panic spread among those inside Golden Temple as members of both groups were seen chasing and attacking each other outside Akal Takht."The SGPC task force made a human wall around the Akal Takht entrance after locking the door. Tensions were high despite police, dressed in plain clothes, led by [a police official] tried to broker peace between the two warring groups."
"Members of a radical outfit confronted the temple's task force, triggering the fight. Some 10 people have been injured, two of them are being treated in hospital," a police spokesman told Agence-France Presse.
Shiromani Akali Dal spokesman Iqbal Singh Tiwana said, "Twelve of our party workers have been arrested and four have been injured in the attack. We believe that the long-lasting solution of Sikhs lies in the formation of Khalistan and we will continue to fight peacefully for the our rights."
Image Credit: AP
Why you should care: India has been slowly becoming more stable, despite widespread crime, corruption and poverty. While there are still challenges to the legitimacy of the central government, serious threats to stability like those in decades past are no longer common. The incident at the Golden Temple is less a sign of major troubles than it is the result of rival political factions facing off on a particularly tense day, meaning this really shouldn't be read as a harbinger of things to come.
In the meantime, Sikhs are still calling for independent investigations into Operation Blue Star, a 1984 military raid on the Golden Temple by over 10,000 Indian troops that killed roughly 850 Sikh separatists and civilians. Temple management says it will be seeking legal action against the perpetrators of Friday's violence.