Here's Who Owned the @CIA Twitter Handle Before the CIA Did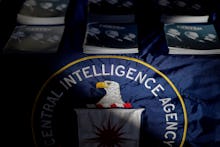 If you're not careful, the CIA could start following you soon.
The Central Intelligence Agency joined Twitter on Friday with an opening tweet that's almost too clever for a bunch of spies and suits. It also plans to finally join Facebook, meaning the CIA is more behind the times than most of our grandparents.
The accounts likely won't have much to do with actual fieldwork, unless agents think high-value international targets might be hiding messages in their Game of Thrones reactions. CIA Director John Brennan said social media can be used to "more directly engage with the public" in a statement, adding, "We have important insights to share, and we want to make sure that unclassified information about the Agency is more accessible to the American public that we serve."
Where'd it get the handle? Twitter has been around for more than eight years, so there's no way @CIA was sitting around for the agency. A spokesperson told the Washington Post that "CIA filed an impersonation complaint with Twitter and they secured the @CIA account for us, which is routine for government agencies."
A quick Wayback Machine search reveals that a user named Molly Hale held the account in May but never posted a tweet. Back in 2009, the handle belonged to the Cleveland Institute of Art.
Screenshot taken from Wayback Machine
Late to the party: Plenty of government agencies with similar accounts, like the FBI and Department of Homeland Security, use social media in much the same way the CIA plans to, which is to say, a lot of news announcements and general PR.
Not all government social media works that way, though. As Mother Jones reported, the State Department runs a Twitter account called Think Again Turn Away that tweets at Islamists and their supporters telling them about the evils of terrorism.