History Shows Triple Crown Won't Save Horse Racing For More Than One Day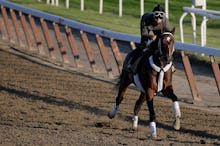 The official announced attendance for the 2004 Belmont Stakes, the year the much-loved Smarty Jones attempted to become the 12th winner of the Triple Crown, was 120,319, breaking the old record of 103,222, set two years previous, when War Emblem, like Smarty Jones, failed to win the third leg of horse racing's greatest quest after winning the first two.
It's not hard to find skeptics about that 2004 number, but it's hitting a crowd of at least 100,000 has become the benchmark of success for subsequent Triple Crown crowds. The New York Racing Association, which controls three of New York's four Thoroughbred racetracks (Belmont Park, Aqueduct Racetrack and Saratoga Racecourse) has declined this year to offer attendance expectations, but given the popularity of California Chrome and the blanket coverage he has received since winning the Preakness, it seems fair to suggest that anything that doesn't approach the record might be considered something of a disappointment.
These expectations are a fairly new development. A look back at the Triple Crown attempts of the 1970s — when the feat was accomplished three times — and thereafter reveals surprisingly low attendance, particularly given that Thoroughbred racing was more popular then than it is now.  
There were five Triple Crown attempts in the 70s: Canonero II in 1971; Secretariat in 1973; Seattle Slew in 1977; Affirmed in 1978, and Spectacular Bid in 1979. Horse racing appeared more regularly on network television then, and the popularity of Secretariat and the intense rivalry between Alydar and Affirmed would suggest that Belmont Park would have been packed to the gills.
Not so. Only 69,138 came out for Secretariat, and only 65,147 for Affirmed. Average attendance at the five Triple Crown attempts in the 1970s was 68,924.
In the three Triple Crown attempts in the '80s (Pleasant Colony 1981; Alysheba 1987; Sunday Silence 1989), an average of 63,612 showed up, the highest for Sunday Silence and Easy Goer, unsurprising given the numbers of fans who had agonized over the New York-based Easy Goer's runner-up performances in the Derby and Preakness, and who showed up to see if he could vindicate himself on his home track. (He did, decisively.)
The '90s saw a discernible jump in Belmont Stakes attendance: an average of 78,887 for Silver Charm's try in 1997; Real Quiet's in 1998; and Charismatic's in 1999.  
Image Credit: AP
But it was in the 2000s that people began coming out in droves to see if the elusive Triple Crown could be achieved (it couldn't), with average attendance for the four attempts a whopping 104,970, aided by that 2004 number. Big Brown's doomed attempt in 2008 was the only one of the four with attendance less than 100,000 (94,476), but the misery of the heat and humidity that day undoubtedly kept people away.  
Since 2008, no horse has raced in the Belmont Stakes after winning the Kentucky Derby and the Preakness; I'll Have Another in 2012 was supposed to, but he was scratched the day before the race with an injury. Attendance hit 85,811 for that day, fueled by people who had already traveled to New York to see a Triple Crown attempted.  
There is much wringing of hands and gnashing of teeth on the current state of Thoroughbred racing, with attendance and betting handle declining regularly; much hope is placed on a Triple Crown winner, and the expectation of what such an accomplishment would do for the sport.
Arguably, what is good for the sport is to have a horse attempt to win the Triple Crown: the horse that wins the Derby and Preakness becomes a national fixation, and one need look no further than the attention that California Chrome and his connections have gotten over the last three weeks for proof of that.
But a Triple Crown winner in 1973 didn't meant higher interest in 1974, when Belmont Stakes attendance dropped 24%, though attendance dropped only insignificantly after Affirmed won in 1978, perhaps because three Triple Crown winners within 10 years had built a firmer customer base.
Attendance following failed Triple Crown attempts is often dismal: From 1987 to 1988, attendance at the Belmont Stakes fell 13%; from 1989 to 1990, 23%; from 1999 to 2000, 21%. In the 2000s, the drops were precipitous: from Smarty Jones in 2004, attendance fell 48% the following year, and from Big Brown in 2008, it fell 44%.
The sport of Thoroughbred racing may well welcome the added media coverage it's gotten this weekend, but the only sure beneficiaries of California Chrome's success are the New York Racing Association and NBC Sports, which will broadcast tomorrow's races, and even they have exactly one day — the day of the race itself — to reap those benefits. Because without a Triple Crown attempt next year, we can be pretty sure that a lot those people watching tomorrow will probably be doing something else.
Image Credit: Getty Images