Why Sports' Most Dominant Home-Field Advantage Is in Serious Jeopardy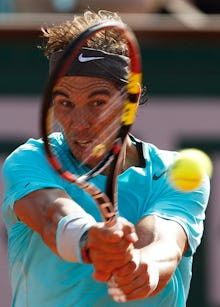 In front of dozens of flashing bulbs and news cameras inside the frosty-windowed player lounge of Court Philippe Chatrier, Rafael Nadal stood Tuesday afternoon with a cake cutter, slicing off pieces of birthday cake — his birthday cake — slowly and methodically. "Who is next?" the Spanish tennis superstar asked in his halting English, his ever-furrowed brow rising a little as he set the small ivory plate down on the table beside him.
It's each June that the King of Clay celebrates his birthday at the French Open, a sort of preamble to his victory festivities at the tournament that he has won a record eight times. The routine is familiar: Win a few matches, eat some cake, win a few more, claim the title.
Nadal, now 28, has dominated the French Open like no athlete has owned a tournament or event in any sport. He won it the first time he entered (as a teenager in 2005) and seven more times since. His lifetime record at Roland Garros is an otherworldly 65-1.
But there's a sense Nadal's lock grip on the French Open is loosening as he readies to face off with Novak Djokovic in Sunday's final (NBC, 9 a.m. ET), the Open-era-record 42nd meeting in a series the Spaniard leads 22-19. It's a match with more plotlines and layers of intrigue than any other they've had before, mostly due to the fact that Nadal, far superior on this surface than any other player in history, has done something rather peculiar this spring: proven he's human.
Image Credit: AP
It's a discussion thread the players themselves have done their best to avoid this fortnight in Paris. Nadal lost three times on clay this season: to David Ferrer in Monte Carlo, to Nicolas Almagro in Barcelona and to Djokovic in Rome. It's something that has never happened in the lead-up to Roland Garros, the Nadal offering a glimpse of hope for the 127 men in the draw in Paris, now whittled down to a familiar foe in Djokovic.
"He's not unbeatable," Djokovic said Friday. And then: "I know that of course this is the court he's most dominant on. He has only lost one time in his career. This is where he plays his best."
Consider the history: Nadal is 317-24 career record on the dirt, credentials that have far surpassed any other offered by tennis demigods. In 89 career best-of-five-set matches on clay, he's lost just once.
"The problem is always the same," Nadal told reporters Friday, that same brow scrunched. "The problem is the past. [The] problem is comparisons, because for everyone that in the clay court season make quarterfinals in Monte-Carlo, quarterfinals in Barcelona, winning Madrid, final in Rome, and final in Roland Garros, will be a very positive clay-court season. But probably comparing with the last eight years will be a little bit more negative. For me, still a very good clay-court season."
A 24-3 record on clay this year, to be exact, totaling for a winning percentage of 0.888. Yet the problem Nadal is facing — or perhaps smartly avoiding — is that in Paris especially he's become both the history and the present, and the vulnerability he has demonstrated.
If the sporting process is about peaking, Nadal may be pulling a ruse of historic proportions: He throttled Andy Murray in the semifinals here, losing just six games and looking as dominant as ever.
Djokovic is the only man to have three wins at a major against Nadal. More important, he's won four straight against the left-hander (Beijing, the ATP World Tour Finals last fall and Miami and Rome this year), the most recent a 4-6, 6-3, 6-3 win in the final. 
"Knowing that I was that close to win against him the past two years [here] gives me that reason to believe that I can make it this time," said Djokovic, who lost to Nadal in a four-set final here in 2012 and in a five-set classic last year. "[This year] definitely gives me confidence that I can do it again."
Djokovic puts Nadal as the favorite, but he might be the only one. The oddsmakers have Djokovic slightly favored, and the talk around Paris is that this is the tournament where the Serb finally completes his career Grand Slam.
Either way, winner gets a cake, right? Just make sure Djokovic's is gluten-free.
Image Credit: Getty Images