The Creator of 'Calvin and Hobbes' Secretly Returned to Comics With These New Strips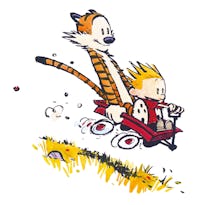 America's most beloved and reclusive cartoonist has been secretly publishing work right under our noses.
Bill Watterson, the creator of Calvin and Hobbes, provided guest art for Stephan Pastis' Pearls Before Swine for three strips this past week. It was the first time original Watterson work has appeared in newspaper comics pages since Calvin and Hobbes ended in 1995.
How it happened: In the recent series, Pastis, who often draws himself in his comics, is visited by a second-grader named Libby (or Lib for short — say it backwards). Libby is introduced and takes over drawing the strip for Pastis, producing much more impressive art before bowing out because "the art form's dying" and leaving on a sled.
Image Credit (all): 2014 Stephan Pastis/distr. by Universal Uclick
In a blog post revealing the secret, Pastis explained that he emailed a strip he drew referencing Watterson to the man himself. Watterson responded with a comic strip idea, wherein he draws Pearls Before Swine for a few days.
"At every point in the process, I feared I would say something wrong. And that Bill would disappear back into the ether. And that the whole thing would seem like a wisp of my imagination," Pastis wrote on his blog. "The only thing Bill ever asked of me was that I not reveal he had worked on Pearls until all three of his strips had run ... And it was the hardest secret I've ever had to keep."
The J.D. Salinger of comics: Watterson is famous for shunning the spotlight, especially once Calvin and Hobbes finished. He declines almost all interviews, and even photos of him are hard to find.
Watterson fought for years to make sure his characters weren't merchandised, which is why you can't buy any Calvin mugs or Hobbes stuffed tigers. (No, those car stickers you see of Calvin peeing on things are not licensed — the original image was Calvin filling up a water balloon.)
While many have tried and failed to contact Watterson, he's emerged every now and again. He drew the poster for Stripped, an upcoming comics documentary, and donated an oil painting to raise money for fellow comic artist Richard Thompson's Parkinson's foundation. The strips he drew for Pastis will likely also be auctioned off for the foundation.