11 Brilliant Podcasts That Will Make You Look Forward to Your Commute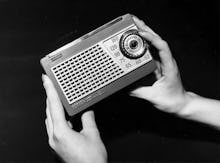 Radiolab partnered with BuzzFeed's Gregory D. Johnsen last month on an episode revealing that a mere 60 words have become the entire legal foundation for the United States' "war on terror." Those 60 minutes of radio sparked a massive discussion. That's because, well before the war on terror began, radio was a foundational medium in American life and democracy. It still is.
Though many are quick to jump to the conclusion that radio is dying and dragging online podcasts along with it, podcast radio is actually a thriving, relevant medium that has attracted everyone from celebrities to extremely specific niche interest groups who have finally, in podcasts, found a voice.
In fact, Apple announced in 2013 that the iTunes Store surpassed 1 billion podcast subscriptions. Macworld reported that those subscriptions "span 250,000 unique podcasts with eight million episodes in over 100 languages." Podcasts are a global and essential medium.
Everybody has a podcast that's more or less made for them, but it can be hard to find.
"As human beings, it can be difficult to find a place where we feel whole, where we feel safe and where we know that we belong. Podcasting has become that place for us," said Alex Aldea, founder of the Paragon Collective podcast network.
These podcasts will make you look forward to every week, the ones that will make your commute that much more palatable. Find yours here:
1. 'The Moth'
The Moth is like meeting for coffee with a random American every week. Each episode focuses on one average person's dramatic retelling of a moment in their life.
Great stories can usually stand on their own, but there's something truly compelling about hearing the story straight from the source. The listener hears every story being told to a live audience — no notes, no laugh tracks. You are transported into the audience — part of this intimate group of people that is privy to the innermost thoughts of a complete stranger.
In the episode "A Dish Best Served Cold," Tristan Jimerson lets you in on his secret undercover mission to get back at the woman who stole his credit card and, in the process, brought him back to life.
2. 'Stuff to Blow Your Mind'
Hosts Robert Lamb and Julie Douglas of Stuff to Blow Your Mind do not believe in blindly accepting things as fact. This branch of How Stuff Works forces the listener to question everything and dismiss the idea of "common knowledge." Each episode takes on a different phenomenon — in science, art, history, insects and more — and aims to figure out why and how it has come to be. 
The episode "If a Tree Falls in a Forest, Does It Make a Sound?" takes a common proverb and investigates it. The hosts (and the listener) soon realize that this experiment reveals more about human psychology than anyone could have predicted.
3. 'The Dork Forest'
As a listener of comedian and host Jackie Kashian's podcast, you are automatically welcomed into her circle of "Rangers of the Dork Forest" on a quest to discover the sincerest passions and borderline obsessions of the show's motley crew of interviewees. Every episode is a hilarious dive into a guest's near-obsessive hobby and a chance for all dorks to let their freak flags fly.
Kashian spends the "LIVE with Kelly Anneken" episode bantering with Kelly Anneken about the fellow comedian's obsession with American Girl dolls. Her excitement is so fierce it's palpable.
4. 'Freakonomics Radio'
The podcast branch of the popular book Freakonomics, created by Stephen Dubner and Stephen Levitt, brings a certain vivacity to anecdotes that can rarely be relayed properly on paper. Each episode of Freakonomics Radio makes the listener feel as if he or she has taken a seat at the hosts kitchen table, participating in their discovery of what they like to call "the hidden sides of everything." 
In the episode "Do More Expensive Wines Taste Better?," Dubner and Levitt use the science of expectations to look at whether knowing the price of a bottle influences how you taste the wine within.
5. '99% Invisible'
Each episode of 99% Invisible is a mind-altering trip through sound and space. It is a show devoted to design, architecture and the "99% invisible activity that shapes our world." Host Roman Mars guides the listener through things that, like sound itself, too often go unnoticed. He brings the background to the foreground in an unusual and exciting change of perspective, showing how the small things we rarely think of actually shape our lives.
"The Accidental Music of Imperfect Escalators" starts by observing that imperfections in mass-produced objects are often what turn them into the things that we love. The show flips common values on their head and reveals that, in that sense, a broken escalator may have more value when it's "out of order."
6. 'Love + Radio'
Immediately after pressing play on an episode of Love + Radio, it's a jet-setting thrill ride of sounds. It's an experimental show that hearkens back to radio's golden experimental period in the 1930s that tackles different subjects, with each show more surprising than the next. 
In the episode "Lady Sovereign versus Jelly Donut," Zach Slow recounts his bizarre journey to win the heart of British rapper Lady Sovereign with pastries. It is, in a word, quirky.
7. 'Here Be Monsters'
Here Be Monsters is a one-way ticket into the unknown — often to creepy effect. Host Jeff Emtman is a firm but bold guide exploring different fears, everything from a darkened laundromat to the inside of a womb to medical leeches. He does so by interviewing experts and even conducting experiments of his own. It's been successful in its two-year run. As he puts it: "We were honored to be called the third best-new podcast by the Daily Dot. That's better than Alec Baldwin's new show did, for real." For real.
In the episode "Do Crickets Sing Hymns?," Emtman, along with audio engineer Toby Reif, invites you to help them figure out why an audio recording of crickets chirping grew so popular that some religious people take it as proof of God.
8. 'You Look Nice Today'
You Look Nice Today sounds like a bunch of adults laughing and exchanging stories around the dinner table after the kids have gone to bed. The show, an audio-based Journal of Emotional Hygiene, tackles adult issues. Though the topics are usually more geared toward men — popular themes are male grooming and sex anecdotes — there is certainly room for women to relate and be comforted that they are not alone in experiencing some of the hosts' more embarrassing mishaps.
The "Morning Glory" episode is especially exemplary. The hosts dwell on topics many adults may be afraid to talk about in public including but not limited to glory holes and the trouble of ordering discontinued cereals online.
9. 'Song Exploder'
Each episode of Song Exploder is like watching somebody take apart a car and put it back together. The musician behind the featured song guides the listener through the story and process behind the music, showing the inner workings of the song. Music is already an intimate experience, but there's nothing quite like having a musician sit down and explain it to you.
In the episode on the critically acclaimed "Miasma Sky" by Baths, Will Wiesenfeld talks about how his own fidgety personality directs his beat-making process, breaking the song's swirling atmospherics into its beautiful component parts.
10. 'The Pipeline'
The Pipeline is a brilliant 40-minute take on a classic journalistic profile. Host Dan Benjamin chats with entrepreneurs, geeks and other successful people with great stories to tell. The episodes are like secret looks inside the minds of movers and shakers across industries.
Benjamin interviewed Tumblr cofounder and Instapaper founder Marco Arment about his inspiration and gave listeners the chance to pick his brain for free.
11. 'Good Job, Brain!'
Each segment of this part quiz show, part offbeat news channel aims to exercise the mind in a playful and helpful way. Every week, host Karen Chu and her factoid-loving team focus on one topic packed with stories and trivia into an hour. The personalities behind the show are obviously in their element and their enthusiasm for everything quiz is infectious.
The episode "Um, Actually..." focuses on know-it-alls and how to stop them. It looks at the most commonly misquoted facts, on corrections and on where the terms we use to make fun of know-it-alls come from. You can hear the hosts' excitement to finally have the chance to correct and outdo one another.