PolicyMic Joins Millennial Thought-Leaders & Special Guests at Upcoming Millennial Conference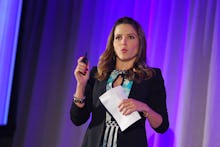 On Wednesday, PolicyMic Community Editor Caira Conner will join 300 young people at the Millennial Impact Conference (MCON) in Chicago for a discussion on ways to get young people engaged and ready to tackle society's biggest challenges. Bringing in unique personalities from different sectors, MCON will feature an impressive lineup of guests including Martin Edlund, co-founder of Malaria No More; Sujean Lee, president of the Chobani Foundation; and Jake Brewer, managing director at Change.org. In anticipation of the conference, I asked Caira a few questions about the big topics likely to be discussed:
Bayo Adafin (BA): Why are you excited for MCON this year?
Caira Conner (CC): The people in attendance. It's rare to to have all of these minds in the same physical place at once, and it's a huge opportunity to mingle and swap ideas across relevant industries. 
BA: With the rise of social media and online petitions, our generation has often been labeled as "slacktivists." Can young people actively participate in important causes, as opposed to just passively supporting them?
CC: Yes. I think there's a tendency to dismiss social activism because of the low-entry barrier it takes to "like" something, but consider President Obama's presidential campaign. Young voters organized a Facebook group, "Students for Barack Obama," before he had even announced he was running. It amassed 250,000 members without any effort on his campaign's part and more young people voted in the 2008 presidential election than any election in recent history. Another place translating online activism into real life change is DoSomething.org. One of their most successful campaigns, "Teens for Jeans," resulted in the donation of over 4 million pairs of jeans for homeless youth. It's a perfect example of building awareness online first and creating an offline impact. Or, consider Change.org, which lets people start their own action-oriented petitions. In 2012, 22-year-old user Molly Katchpole started a petition to get Bank of America eliminate its $5 a month fee to use its debit cards. Over 300,000 people ended up signing the petition, which led to congressional hearings and the eventual reversal of Bank of America's fee policy.
The lesson learned from these examples is that yes, young people can participate in the conversation and drive awareness to issues they care about and that affect them directly. 
BA: How do you think companies and organizations can do a better job of helping our generation tackle the big challenges we face?
CC: It depends on the organization and what they want to address, but a great place to start is with the issues most relevant for young people right now: a tough job climate and unprecedented amounts of debt. Starbucks recognizes that young people are a big part of their business, both as consumers and as employees, and they now offer college tuition reimbursement as a perk. By doing this, they are empowering 135,000 people with a real opportunity to pursue their dreams, debt-free. 
This generation is up against a lot of challenges, but they're also incredibly passionate about making positive changes to solve them. Companies should look internally at the resources and expertise they can provide. They can offer platforms through which young employees can leverage existing skill sets or social communities to do philanthropic work outside the office. An organization that's making that possible is one like Catchafire.org, which matches professionals to volunteer with nonprofits or startups that need their help.
PS: If you could ask one of the MCON speakers anything, what would it be?
CC: My question would be for Susan McPherson: What surprises you the most about the youth you work with at Girls Who Code?
Please visit The Millennial Impact, for more information about MCON14.