The Beastie Boys' Fight With Monster Energy Is What Artistic Integrity Looks Like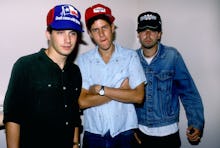 When Beastie Boys' rapper and bassist MCA (Adam Yauch) passed in May 2012, he left behind an incredible legacy of music, advocacy and insight. He left his group reeling and fans distraught. But even in death, he was looking out for them. To preserve his legacy, he handwrote one simple request in his will — that none of his music would ever be used for commercial purposes.
It only took a few days after that for Monster Energy Drink to post a video promoting their annual snowboarding competition, Ruckus in the Rockies. The video was soundtracked with all the vital Beastie Boy hits, including "Sabotage," "Pass the Mic," "Make Some Noise," "So What'cha Want" and "Looking Down the Barrel Of a Gun." They never even asked for permission. The company seemed to think they were being respectful when they ended the video with a bold "RIP MCA" written in green, rippling Monster lettering. Beastie Boys fans and the band themselves knew better.
The group's surviving members took this as an insult to the memory of Adam Yauch, and, true to their music, they fought back. They took Monster to court for $2.5 million dollars last August. Monster cried foul, claiming they'd received "consent" from DJ Z-Trip, who is not a Beastie Boy. The DJ was playing a handful of Beastie Boys songs in a 2012 set as a tribute to MCA. Monster used a recording of his set as the snowboarding video's soundtrack. They sent him the video. "Dope!" he responded, and the company went ahead and defiled MCA's legacy. Hilariously, a large portion of the defense's case aimed to establish "Dope!" as an "expression, albeit unorthodox, of approval and acceptance of another's antecedent offer." The argument did not hold up. Last week, finally, the band came away with their victory — Monster Energy Drinks shelled out $1.7 million for copyright infringement.
Monster Energy officials spit at the sum, claiming the damages shouldn't have earned more than $125,000. "The plaintiffs try to take the undisputed evidence and spin some tale of an insidious corporate conspiracy," said Reid Kahn, Monster's lawyer, during closing arguments. But it isn't hard to justify the sum. The Beastie Boys law suit was about the very principles of their art. It was about loyalty and artistic integrity. It was about protecting a friend and a shared dream.
Image credit: Getty.
The snowboarding video only encouraged an extremely reductive take on MCA and the Beastie Boys' significant artistic contribution. It's easy for the casual listener to cheapen the Beastie Boys' career by only knowing their beer-chugging chants like "You Gotta Fight For Your Right To Party" and "No Sleep Til Brooklyn" — the kind of songs you might expect to hear behind snowboarding footage. That's a part of their legacy, but it's only a fraction of what they really contributed. They had one of the most sonically diverse catalogs in music. Their albums featured their hard rap singles like "Sabotage" and "Pass the Mic" and punk rock blast beats like "Tough Guy," but they also wrote intricate and soothing Latin jams, some experimental singer/songwriter tunes, reggae songs and funk, playing many of the instruments on these experimental jams themselves. In every song, they were deeply thoughtful about what their music could do for the world.
"We get together every day. Music always comes first," Beastie Boys MC Ad-Rock said during the trial, "[A song] can take a year from beginning to end," and "a couple years for each album." An incredible amount of thought and social-consciousness went into each piece. Their lyrics often carried important and inspiring messages, such as MCA's famous feminist rallying cry: "I want to say a little something that's long overdue / The disrespect to women has got to be through / To all the mothers and the sisters and the wives and friends / I want to offer my love and respect to the end."
The clause in MCA's will matters, then, because cheapening his words doesn't only affect him. He used his considerable musical energy to fight for the cause of Tibetan liberation. He wrote songs remixing Mahayana Buddhist vows into rap verses so he could introduce Buddhist tenets to a wider audience. MCA believed that if more Westerners understood and adopted the Buddhist way of life they would be happier, more altruistic and peaceful. Even more, though, he believed that Tibetans deserved their freedom.
This incredibly diverse musical legacy gets glossed over when Beastie Boys' music is reduced to an adrenaline rush. Monster discounted all the effort and genius that went into writing these songs when they slapped the band's music on their commercial without consulting them, and to do so right after MCA's death was only ever inconsiderate — never dope.
There is an uplifting message here, though. The Beastie Boys didn't sue for the money — they don't need it. They fought their way through a lengthy legal battle only to preserve their friend's legacy and let their music speak for itself. That's what artistic integrity looks like. That's what lets music matter.