14 Summer Indie Films to See Instead of All Those Blockbusters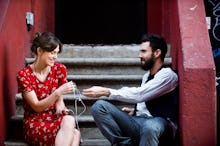 It's summer, which means 'tis the season for the big studios to make the big bucks and churn out all those mega hits. From hotly anticipated action installments like X-Men: Days of Future Past and Transformers to tear-jerker YA staples like The Fault in Our Stars, this summer's marquee is stacked with popcorn hits.
But summer is also the season for the quiet release of countless indie films, fresh off the festival circuit and hitting theaters nationwide. We've rounded up 14 can't-miss indie films that should be on your radar — proof that summer does yield some real artistic wins, and that there is a way to do summer movie night without giving up your art house roots.
1. 'Cold in July' (Already in theaters)
Showtime's razor-sharp turned rather-middling series Dexter might have lost steam in its final few seasons, but fans tuned in until the bitter end for one reason: Michael C. Hall.
Cold in July finds Hall with blood on his hands once again. This time, however, he's an ordinary family man who has killed a home invader in self-defense. Set in 1989 Texas, the thriller follows Hall's Richard Dane, who unknowingly shot the small-time crook son of a big-time bad guy and now has to fight for his family's safety.
Hall is already at home in the role of a conflicted killer; this big-screen role finds him pushing the boundaries of the potential for darkness inside an ordinary man. Since its release last month, the film has been critically lauded as a gritty, atmospheric — and relentlessly unsettling— crime drama with Hall at its steely center.
2. 'Obvious Child' (Already in theaters)
If the words "abortion comedy" (for the record, neither star Jenny Slate nor the crew are quite down with this descriptor, which they feel marginalizes the film) sound mutually exclusive: Think again.
Slate — whose voice many will recognize from the charming viral video "Marcel the Shell With Shoes On" — (soon to be a major motion picture!) stars as Donna, a late 20-something comedian in Brooklyn who doesn't have it all figured out quite yet. It's a familiar premise, but this is far from your formulaic rom-com. Girl meets boy, girl and boy get drunk, pee in an alley, have sex … and girl gets knocked up.
What follows is a wickedly funny, yet surprisingly tender — and relatable — exploration of life getting in the way of all the best-laid plans. 
3. 'The Case Against 8' (Already in theaters)
Your big summer popcorn flick this is not. Directors Ben Cotner and Ryan White scored a Directing Award at Sundance for this documentary, which explores the Supreme Court battle to overturn California's Proposition 8.
Featuring exclusive behind-the-scenes footage of dynamic legal duo David Boies and Theodore Olson, the doc is a riveting, must-see account of their groundbreaking — and ultimately triumphant — battle for equality. Consider this weighty doc the cerebral antidote to your cheesy summer beach read. 
4. 'Ping Pong Summer' (Already in theaters)
Fans of The Way Way Back — last summer's excellent coming-of-age film — and children of the '80s alike will delight in the story of Rad Miracle, an awkward teen obsessed with hip-hop and ping-pong.
The film follows Rad during a pivotal summer he spends with his family on vacation in Ocean City, Md., where he battles with bullies, with ping-pong opponents and faces perhaps the most daunting challenge of all — a first big crush.
Marked by enough silly '80s references to have you briefly nostalgic for the days of spandex and Slick Rick, Ping Pong Summer has the added bonus of Susan Sarandon in an unexpected turn as Rad's eccentric neighbor-turned-mentor in a new spin on old-school underdog sports flicks like The Karate Kid.
And if the winking generational nods sometimes wander a bit too deep into cliched waters, we'll allow it: What's the summer for if not relaxing (our high-brow sensibilities) a bit?
5. 'Begin Again' (Already in theaters)
OK, stick with us here. Yes, this film's billing includes Adam Levine, People Magazine's official "Sexiest Man Alive" and the music industry's unofficial "Douchiest Man Alive," but the role in Begin Again is one the Maroon 5 crooner was tailor-made for: a musician whose rising star leads him to ditch his longtime girlfriend and fellow musician, Keira Knightley, for greener pastures.
The break-up leaves Knightley free to meet Mark Ruffalo, a record label exec whose own star has long since dimmed, when he finds her singing at an East Village bar.
You didn't have to catch Ruffalo's stirring turn as a gay man battling the AIDS epidemic in 1980s New York in The Normal Heart (though you should) to know that he is quietly distinguishing himself as one of the finest actors of his generation.
6. 'They Came Together' (June 27)
David Wain directs dream comedy duo Paul Rudd and Amy Poehler in a no-holds-barred take-down of every rom-com trope known to modern cinema. The film takes the premise of You've Got Mail — Rudd is an exec at a giant candy corporation tasked with putting Poehler's candy shop out of business — but this is no Tom Hanks and Meg Ryan romance.
Fans of Wain's irreverent Wet Hot American Summer will delight in his raucous, over-the-top send-up that does to romantic comedies what The Cabin in the Woods did for horror movies: burn them all to the damn ground in spectacular — and hilarious — style.
7. 'Land Ho' (July 11)
There are a lot of movies exploring the travails of 20-somethings on this list. And yes, young people have it tough, too. However, we're happy to see at least one film come out this summer that gives the spotlight to the older generation. 
Land Ho is an Icelandic-American adventure comedy that follows a retired surgeon who, bored and discontented with his twilight years, convinces his brother-in-law to join him on a party tour of Reykjavik, where the two hit up nightclubs and campgrounds alike in search of their lost youth. Think Grumpy Old Men but with ice bars and vodka.
8. 'Boyhood' (July 12)
The first of its kind, Richard Linklater's film experiment invites audiences to watch a boy grow up before their eyes. Filmed over 12 years, Boyhood follows Ellar Coltrane from age 5, as his character, Mason, quite literally becomes a man onscreen.
The unique premise, which opens a window into the secret world of childhood and the fits and starts of adolescence, would be reason enough to check out Boyhood. The fact that it boasts a stellar supporting cast, including Ethan Hawke and Patricia Arquette, is merely a bonus.
9. 'A Most Wanted Man' (July 25)
Fans bereft at the loss of Phillip Seymour Hoffman can catch the late, great actor in one of his last roles, captivating as ever as the head of a secret anti-terrorism team caught up in an international scandal involving a displaced half-Russian, half-Chechen immigrant, the Muslim family with whom he takes refuge and a human rights attorney (Rachel McAdams).
The taut thriller boasts a heavy-hitting cast that also includes Robin Wright and Willem Dafoe, two actors whose considerable gravitas almost rivals Hoffman's.
10. 'Happy Christmas' (July 25)
Anna Kendrick and Lena Dunham, two of the funniest young women in the biz team up for what is sure to be a comedic tour de force. Fans of Girls are already familiar with Dunham's semi-neurotic brand of wit and fans of Pitch Perfect already know that Kendrick's delivery is, well, pretty perfect.
Kendrick stars as Jenny, a hard-partying, ambitiously aimless 20-something who moves in with her happily settled brother (mumblecore front-runner Joe Swanberg, who also directed the film) and his family and shakes up their carefully constructed life. Dunham pulls supporting duty as Jenny's best friend Carson, who helps Jenny navigate her uncertain future — and doubtless more than a few jokes.
11. 'What If' (Aug. 1)
This rom-com finds Daniel Radcliffe dueling with forces less malevolent but no less tricky than the dark magic of Voldemort: young love. Radcliffe stars as a pre-med student who meets the girl of his dreams (Zoe Kazan). The problem? Said girl is spoken for.
The "will they or won't they" territory has been explored before, at great length, but we're curious to see Radcliffe stretch his wings as he works to break free of his boy wizard role. Plus, Girls' oddball Adam Driver plays Radcliffe's oddball best friend in what is likely to be a screen-stealing role. We'd watch Driver do just about anything.
12. 'Life After Beth' (Aug. 15)
Forget Twilight — sexy vampires are so over. Zombie rom-coms (zom-coms?) are where it's at now, if recent additions to the genre are any indication (last year's Warm Bodies, in particular put Edward and Bella's romance to shame).
The dead are walking, and dating, in this comedy starring Parks and Recreation's Aubrey Plaza (finally scoring a long-deserved leading big-screen role) as Beth, who returns from the dead to get back together with her nonplussed boyfriend (Dane DeHaan). Kendrick (killing it right now!), Molly Shannon and John C. Reilly round out an all-star comedy cast.
13. 'Frank' (Aug. 22)
Michael Fassbender in a giant paper mache head: Enough said. The German actor, also starring in the summer's X-Men release, wears a very different kind of mask here. Fassbender sports a massive, cartoon-ish head throughout the entire film as the title character, the frontman of an offbeat rock band who taps a young musician to join the group after hearing him play just a few notes.
The film opened to wide acclaim at both Sundance and SXSW, but we'd check it out just to see if Fassbender's steely charisma translates through an oversized paper mache head. We're betting it does.
14. 'The One I Love' (Aug. 22)
It's essentially a sci-fi movie without any science, and that's what makes The One I Love so fresh. Starring Elisabeth Moss and Mark Duplass as a couple facing road blocks, this little movie follows them on a weekend retreat to mend their relationship that really takes off when they arrive at their destination to find themselves already there.
Sound intriguing? It is.