5 Reasons Why Rafael Nadal May Already Be the Best Tennis Player in the World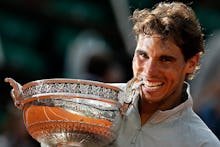 Rafael Nadal won his ninth French Open championship Sunday with a 3-6, 7-5, 6-2, 6-4 win over Novak Djokovic.
The victory extends Nadal's career haul to 14 Grand Slam titles — the recognized metric of greatness in tennis — putting him on level terms with Pete Sampras (who offered up a nice gesture of congratulations) and just three behind Roger Federer's 17.
The reaction both within and beyond tennis was immediate and resounding.
Whether Nadal can surpass Federer on the all-time Grand Slam leaderboard remains to be seen — the folks at FiveThirtyEight rate his chances at 22% — but there are reasons to believe the 28-year-old Spaniard is already the greatest player to ever pick up a racket. Here are five of them.
1. He is truly the King of Clay.
Nadal's lifetime record at the French Open is 66-1. The trend is even more outrageous when you examine his career record in best-of-five-set matches on clay: 90-1. No player has ever dominated a surface — let alone the most punishing and demanding terrain in the sport — as comprehensively as Nadal.
2. He is the fiercest, most relentless competitor of our time.
Consider the caliber of opponent on Sunday. Djokovic had gone 54-3 since losing to Nadal in the U.S. Open final, including four straight wins over the Spaniard. He has all but focused his career on winning the French Open, the only major title absent from his resume. He arrived in Paris fresh off a win over Nadal in the Rome final.
Yet on Sunday, Nadal overcame an uncharacteristically sloppy opening set to find his range and grind his opponent into submission. By the fourth set, Djokovic's body was rebelling — as NBC was keen to show in high-definition, slow-motion replay.
3. Once regarded as a clay-court specialist, his all-surface bona fides are now beyond dispute.
With last year's U.S. Open win, Nadal became just the second man to win multiple titles on three different surfaces. His lifetime winning percentage, currently an absurd 83.7%, is better than anyone in the sport today. Incredibly, he entered the French Open with a winning record against each of the other 127 players in the field. History will look kindly on Nadal's progression from raw athletic specimen to an adaptable competitor of profound mental and tactical agility.
4. The physics don't lie.
The topspin on Nadal's lethal forehand averages 3,200 revolutions per minute — more than 20% higher than Federer's — though it's in fact topped out 5,000 rpm. By comparison, Sampras and Andre Agassi both averaged in the 1,800 rpm range. 
5. Can Federer be the best of all time when he may not be the best of his time?
Federer has been the sport's presumptive G.O.A.T. since eclipsing Sampras' Grand Slam haul at Wimbledon in 2009. Yet consider that Nadal has beaten Federer in 23 of their 33 meetings — and nine of their 11 matches at Grand Slams. Or that Nadal has won four more Davis Cups than Federer's zero. Or that Nadal has won Olympic gold in singles and Federer hasn't. 
Now Rafa has become the only player to win at least one Grand Slam for 10 straight years — at least a partial strike against the argument for Federer's superior consistency over time. Time will tell whether Nadal can surpass the Swiss maestro in popular opinion, but there's no doubt the argument is getting closer over time.