14 Enlightening Maurice Sendak Quotes to Live By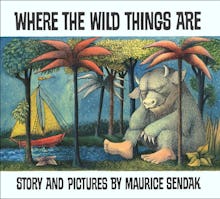 Children's book royal and all-around sage Maurice Sendak would have been 86 on Tuesday. The writer and illustrator, best known for the legendary 1963 picture book Where the Wild Things Are and 1970's In the Night Kitchen, died in May 2012. Sendak was like a compassionate curmudgeon, equal parts sensitive and surly, and he left behind a 50-year legacy as a literary hero, soothsayer and ally for respecting kids.
Here are some of his most righteous and irreverent quotes to remember him by.
1. On art
"Art has always been my salvation. And my gods are Herman Melville, Emily Dickinson, Mozart. I believe in them with all my heart. And when Mozart is playing in my room, I am in conjunction with something I can't explain — I don't need to. I know that if there's a purpose for life, it was for me to hear Mozart. Or if I walk in the woods and I see an animal, the purpose of my life was to see that animal. I can recollect it, I can notice it. I'm here to take note of. And that is beyond my ego, beyond anything that belongs to me, an observer, an observer."
2. On love
"It's like I'm a receptacle, a repository for all the people I love. All I can do with them is keep them."
3. On children
"Children are tough, though we tend to think of them as fragile. They have to be tough. Childhood is not easy. We sentimentalize children, but they know what's real and what's not. They understand metaphor and symbol. If children are different from us, they are more spontaneous. Grown-up lives have become overlaid with dross."
4. On fame
"I'm not Hans Christian Andersen. Nobody's gonna make a statue in the park with a lot of scrambling kids climbing up me. I won't have it, okay?"
5. On aging
"One of the few graces of getting old — and God knows there are few graces — is that if you've worked hard and kept your nose to the grindstone, something happens: The body gets old but the creative mechanism is refreshed, smoothed and oiled and honed. That is the grace. That is the splendid grace."
6. On bullshit
"I refuse to lie to children. I refuse to cater to the bullshit of innocence."
7. On fantasy
"It is through fantasy that children achieve catharsis. It is the best means they have for taming Wild Things."
8. On possessions
"There must be more to life than having everything."
9. On books (and ebooks)
"I hate them. It's like making believe there's another kind of sex. There isn't another kind of sex. There isn't another kind of book! A book is a book is a book."
10. On death
"I cry a lot because I miss people. They die and I can't stop them. They leave me and I love them more. ... There are so many beautiful things in the world which I will have to leave when I die, but I'm ready, I'm ready, I'm ready."
11. On imagination
"A letter from a seven-year-old boy encourages me to think that I have reached children as I had hoped. He wrote: 'How much does it cost to get to where the wild things are? If it is not expensive my sister and I want to spend the summer there. Please answer soon.' I did not answer that question, for I have no doubt that sooner or later they will find their way, free of charge."
12. On expression
"And if I've done anything, I've had kids express themselves as they are, impolitely, lovingly — they don't mean any harm. They just don't know what the right way is. And as it turns out sometimes the so-called 'right way' is utterly the wrong way. What a monstrous confusion."
13. On courage
Bill Moyers: You deal so often in your work with the courage of children. What does it take for a child to have courage?
Maurice Sendak: Innocence.
14. On hope
"You can't get rid of evil. We can't, and I feel that so intensely. All the idiots that keep coming into the world and wrecking people's lives. And it is such an abundance of idiocy that you lose courage, okay? That you lose hope — I don't want to lose hope."