Professional Portraits of Homeless LGBT Youth May Help Them Find Loving Homes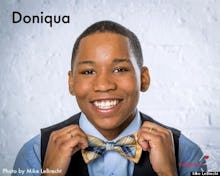 A New York City gallery has turned its cameras toward LGBTQ youth in the hopes it will help them finally find loving homes.
Heart Gallery NYC, a traveling exhibition of professional pictures taken by award-winning photographers of children in foster care looking for "forever families," has set up in shop in Times Square, spotlighting LGBTQ young adults. The exhibition, which is the first of its kind, coincides with National Pride Month and will culminate at New York's Pridefest on June 29.
"LGBT youths are disproportionately overrepresented in the care system," Susan Grundberg, executive director of You Gotta Believe, an organization that helps young adults and teens find permanent homes, told PolicyMic. "They face more bullying and harassment" than their straight peers, and run a higher risk of being rejected by their families, she said.
The organizers of the Pride Exhibition, which features portraits of 12 LGBTQ youths and 24 other foster children, hope to raise awareness of the high number of LGBTQ youths looking for homes and to encourage both same-sex and gay adults to open their homes to these young adults. 
One of the LGBTQ youths featured in the exhibition, 20-year-old Terrell, was visibly moved by the experience.
"I'm an attention seeker, but this is really overwhelming," he told PolicyMic. "This has never happened to me before."
Speaking at the exhibition's launch event, J. Rhodes Perry, director of LGBTQ policy & practice for the NYC Administration of Children's Services, pointed out the "real and pervasive discrimination of LGBTQ youth in the foster system." He said that 26% of LGBT teens who come out to their parents are rejected and forced to leave home, and 17% of those who enter the foster care system suffer anti-LGBTQ bias. According to one study, 78% of LGBTQ youth were forcibly removed or chose to run away from their foster placements after experiencing hostility due to their sexual orientation or gender identity. 
Up to 40% of homeless youth who live on the streets are LGBTQ, according to the National Network of Runaway and Youth Services.
"Our main goal is to raise awareness" of the issues that LGBT youth face in foster care, Laurie Sherman Graff, executive director of Heart Gallery NYC, told PolicyMic. "We are focusing on LGBTQ youth during Pride Month — our exhibition literally puts a face to the issues they face in foster care. It's all about self-empowerment, about feeling special and feeling OK."
 Speaking at the event, Mary Keane, director of LGBT services at You Gotta Believe, said, "There's a hesitancy among LGBT youths to step up and claim their title — which they should be proud of — and for that to still be the case today in New York in 2014, that they don't feel safe in their environments, that's a crime." She pointed out the double-whammy of experiencing the stigma of being LGBT as well as the stigma attached to being in foster care.
"We need to get them into safe spaces where they can blossom and really be themselves," she said. 
Image Credits (all): Heart Gallery NYC
Brieanna Hayes, 20, read aloud a poem she wrote about her experiences in the foster care system. The exclusive video of the beautiful, 2 Mins Till The Next Train, is below.
"I was tired of traveling / My feet hurt so bad. / These shoes weren't hefty enough / For what I faced," the poem begins. "I remember running away from home / because the floor hurt my back / I remember not being understood / because my pants would sag. / Not being able to explain / the colorful rainbow wrist tag."
Hopefully, this portrait series will help young men and women like Brieanna find forever families once and for all.