Will Protests and Scandals Ruin Public Attitudes Toward Hosting the World Cup?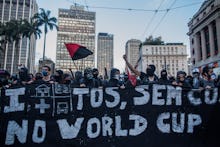 Brazil 2014 is crucial for the future of the World Cup and not just because the tournament hasn't truly captured our imagination from start to finish since France '98. This year's World Cup needs to go off without a hitch because, following the mass protests in Brazil last year that coincided with the Confederations Cup and the shady way in which Russia (and especially Qatar) won the right to host the 2018 and 2022 tournaments, respectively, the World Cup's stock is at an all-time low.
The Brazilian protests and the Qatar corruption scandal — recently laid bare in a British Sunday newspaper — get to the heart of the two main arguments against the World Cup in its current form: that it costs huge amounts of public money for little to no public gain, and that the bidding process is nothing but a competition to see which officials can cream off the most money in exchange for votes.
The latest allegation, that ex-FIFA executive Mohammed bin Hammam paid more than $5 million to executives from various national football associations to win support for Qatar's bid, served to confirm what most observers already suspected. The scandal is even making FIFA's usually loyal sponsors noticeably twitchy.
We're left with a situation where large amounts of money are thrown away during the bid process and even more is wasted once a country has won the right to host the tournament, with FIFA taking all the World Cup earnings tax-free. Four years ago, the South African government spent $1.1 billion building five stadiums and upgrading five more, many of which are little more than white elephants today. This in a country where 46% of the population lives in poverty.
Image Credit: AP
Likewise, the total cost for 2014 has already passed $14 million, and it's this figure, which is still likely to swell, that caused more than 1 million Brazilians to take to the streets in demonstrations last June. Whether anything near this level of protest takes place in the next month is still unclear, however.
According to a recent poll, 61% of the country's population think the World Cup is a bad thing because it takes away money that could be used on public services. This week in Sao Paulo — where the opening game between Brazil and Croatia will be played Thursday — activists supporting a subway workers' strike were dispersed with tear gas and threatened to return if demands were not met.
Spending vast amounts of public money on a soccer tournament, with its attendant corruption, was even a contributing factor to the Ukrainian revolution. The country's opposition party claimed that almost 3 billion euros of the budget for Euro 2012 — which Ukraine co-hosted with Poland — had gone missing, adding to the sense of disaffection with Viktor Yanukovych's government.
But still, after the cost of dealing with FIFA has been splashed across international media for the past four years, countries are lining up for the 2026 competition, with Canada already declaring that it will bid. Surely there has to be a better way?
The 2020 European Championships, which will be held in 13 cities across 13 different European countries to celebrate the tournament's 60th anniversary, could be part of the answer. Almost all the 21 bidding stadiums are already built. And traveling between major cities in Europe, North America or southeast Asia, for example, is probably easier than getting around vast countries like Brazil and South Africa, where the number of games in a World Cup demands visiting smaller, more remote cities.
A recent Economist editorial offers a few more suggestions. It suggests leaving the World Cup in one country, allowing the winners to either host or auction the tournament off, or — perhaps more realistically — a return to managed continental rotation. So a lot is riding on Brazil 2014 going smoothly.
If protests seriously disrupt the tournament, and if the Qatar scandal keeps spiraling until it causes a re-vote, the World Cup would be facing a serious crisis. If, though, is a big word.
Image Credit: Getty